It's good to be back y'all. I've missed these recaps so much!
With all the snippets and previews and hints the producers have been dropping since Season 2 ended, you already know we were in for quite the ride. The only think I'm disappointed about is the fact that episodes are still only 30 minutes. Are they not reading our tweets? What happened to two episode season premieres?
Recap
The episode starts off with a montage alluding to Zoey's travels, then we see the queen herself and she tell us all about what she calls "the pre-game to adulthood." Sis is an upper class woman now, so that means she's got to get her life together real quick.
She spends a good minute tooting her own horn about how she's matured and is basically some pretty hot stuff now. With that maturity comes a need to separate herself from distraction. She's trying to keep a 5 kilometer distance from Aaron and Luca. I don't blame Zoey for that one, worrying about these boys isn't gonna help you secure the bag.
Sis finally gets to her new place and there's a whole Homecoming inspired party going on. I'm talking school colors, step teams, dance crews, and a poppin' band. Guess who's at the party. Did you guess?
Ana and the twins are dressed in their Homecoming attire, looking like they just came from the concert. Jazz and Sky are charging people $20 to get into the party. They got paid nothing to run track that summer, so they need some way to buy those retro Jordans. Nomi hasn't gotten there yet, but if she was there the twins would've charged her double for reparations.
The girls… and Vivek got a whole house this year. Vivek's still a drug dealer and they needed someone who could help out with the bills. This place is real cute, like how can they afford it in college kind of cute. Again, Vivek's a drug dealer so the bills are getting paid either way.
Doug offers Aaron some elevation. It's a weed brownie with shroom icing. Doug tells Aaron that it's his last first party now that he's a senior so he might as well live it up. After a little more peer pressure, Aaron ends up agreeing to try the brownie.
Now that Zoey has her Homecoming attire on, the girls are ready to strut. As they're going, Zoey interrupts the strut to tell the girls about how she kissed Aaron before her flight to London. Ana has no hurt feelings so that's a dodged bullet.
Ana actually tells Zoey to rip the band aid off and talk to him. Jazz emphasizes the point and Zoey heads over to Aaron.
Aaron is just starting to feel the brownie's effects when Zoey gets to him. She tries talking to him, but he's definitely not in the right state of mind for this conversation. He ends up implying that Zoey wanted to smash which she tells him she didn't. Then he tries to laugh it off, but brings it up again and when I tell you I cringed... Aaron's a mess.
After that, Joey Bada$$ sends her a text about a styling emergency and she just… puts her phone back in her pocket. Why would she not text him back? That's your boss sis!
But of course, Luca's shows up with his "Welcome home, kid." Like who do you think you are? Where did you come from? Why are you even here?
He then proceeds to "apologize." He starts off his by talking about how Zoey was wrong for a lot of their relationship. Then he acknowledges that she was right about Joey. Zoey apologizes for ghosting Luca and he admits that he was actually super creative that summer. She tries saying that in a way, she was his muse but he tells her she was more like an anti-muse. Have I mentioned I can't stand Luca?
Luca tells Zoey that he actually chased her to the airport that day, which Zoey didn't know before. She proceeds to make a big deal about this for the rest of the episode, so I guess some things never change.
While all of this is happening, Aaron and Doug are flying higher than kites. It's really hitting Aaron that it's his last year. He tells Doug that Zoey kissed him before she got on the plane. Doug tells Aaron that he's barely got a nail on his pinkie toe. So, I guess their both making confessions.
Zoey tells the girls she's got to leave early because Joey Bada$$ sent her another text. He's up to the black chef emoji and she doesn't want to get to the black fireman emoji. Instead of texting him back, she tells the girls about Luca following her to the airport and she "needs" a minute to unpack.
Sky asks a question we've all been wondering "How are all these guys so into you?" Twitter had a good time with that one.
Jazz tells Zoey to go get some answers. Again, she has yet to text Joey back. Zoey finds Vivek outside and asks if he's seen Luca. Apparently, Luca just left in search of a payphone. Before she can find Luca, Joey Bada$$ sends Zoey the black fireman so she decides to stop fumbling the bag and go do her job.
Joey notices that she's off and Zoey tells him about the Luca situation. Joey gives her some advice about second-guessing herself and it turns out that was the black fire marshal, so she really could've lost her job. Joey also tells her not to distract herself out of a job. I'm so happy someone said it because Zoey needed to hear that.
There was a dude earlier that Sky didn't let in because he didn't have cash for the cover charge and she doesn't put her bank info online. He's back at the party and when she tries to kick him out again, he tells her that he'll take her out for $40 worth of drinks. Then sis says "Make it $60." I love the black girl magic. Be bold, Sky.
Zoey gets back to the party and tells Ana that she's not worried about what Luca had to say. She's going to start focusing on this year.
Everyone's swag surfin', having a good time and then Nomi shows up… Looking a good five months pregnant. So now we know who's having the house baby.
Then Aaron runs through the party naked, screaming "Senior year."
The last scene is Joey Bada$$ sweating through his interview because of the polyester blend turtle neck that Zoey low key told him not to wear.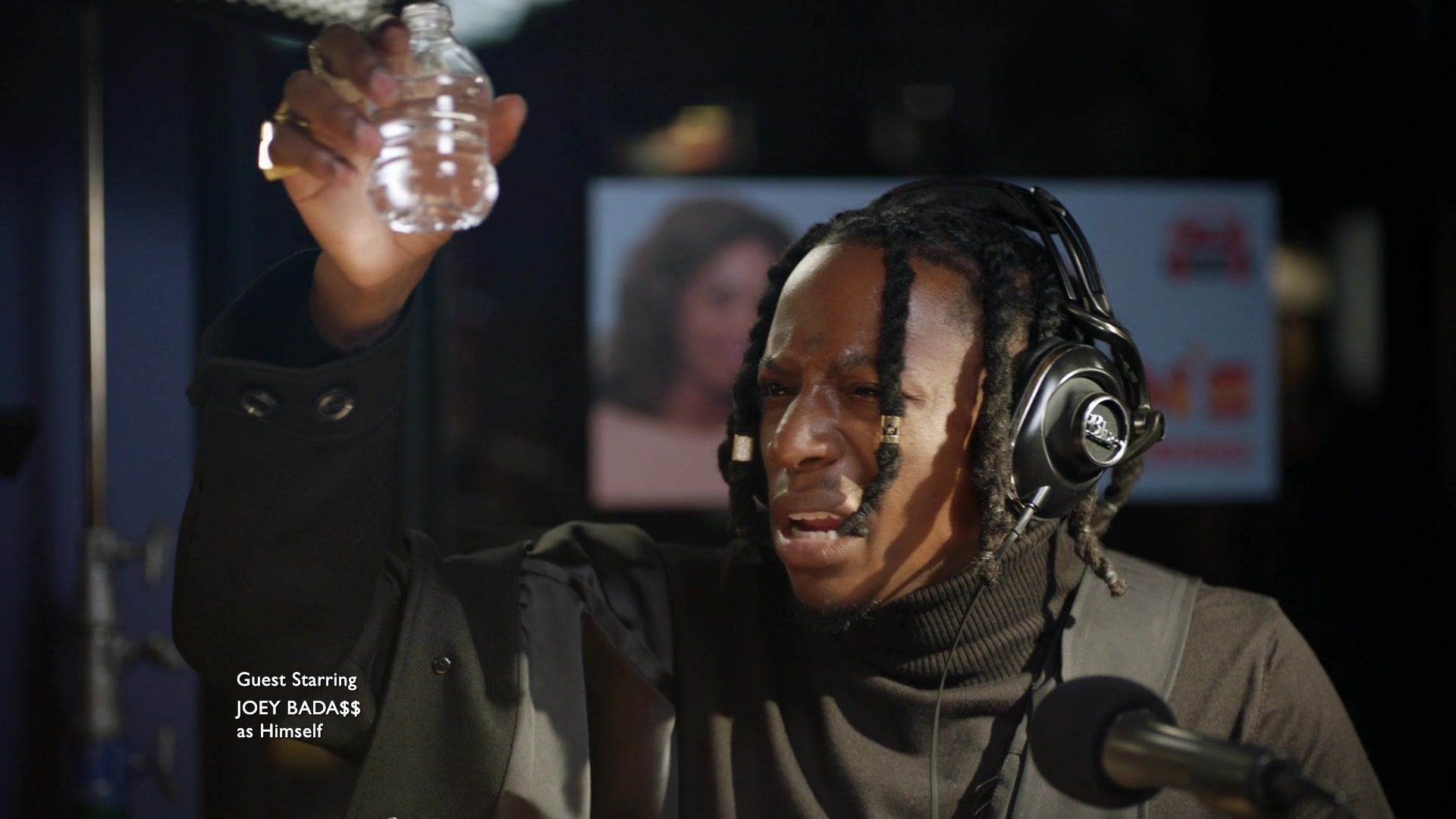 Discussion
This was a fun way to kick off Season 3. I'm not gonna lie, I'm disappointed in Zoey's lack of growth. She really needs to stop worrying about these boys and start thinking about her career. How do you ignore your celebrity boss like that?
Also, I really wanted Zoey to be single this season but I guess single doesn't sell. If she has to end up with anyone, I would much rather she be with Aaron. I was rooting for Aaron since Day 1. But again, I wish she would just take some time to be single and really work on herself before running into a relationship head first.
I'm happy that we're finally acknowledging that Aaron is a whole year older than everybody else. There's nothing wrong with him hanging out with underclassmen, but we can't ignore the fact that him being older comes with different challenges. I'm excited to see more of that side of Aaron.
As I predicted before, Nomi is the pregnant one. My guess is that the call she got at the end of Season 2 was from some surrogate thing. I just don't think she would've chosen to keep the baby if it was an accident. I also don't think she was hooking up with any guy's while she was with the professor, especially since she looks pretty far along.
I really hope we get more of Vivek, especially now that he lives with the girls. I really do love his character.
How did you feel about the episode?
What were your favorite parts?
Were you surprised about Nomi?
What do you think Aaron will do his senior year?
What did you like most about Season 2?
Let me know in the comments below, let's chat!