Hey y'all! I really love graphic novels and I feel like it's been forever since I shared some on any of my pages. I decided to put together this list that's diverse in race, ability, and sexuality so there's something for everyone here.
Synopsis: Invulnerability is a pretty useless superpower if you've only got a one-hundred pound frame to back it up. That's what Quinton West's life became when he went from small guy who got beat up to small guy who can't get hurt after the meteor shower dubbed "The Event" gifted him the power of invulnerability but no other powers to compliment it.
But there's more to Quin than meets the eye, and after some encouragement from his new mentor–a local New Orleans-based superhero named Glow–Quin realizes that he can use his quirky hobby of creating Rube Goldberg devices to outsmart the opposition. But being a hero paints a target on your back, and Quin's got to risk it all to join the ranks of the superheroes he looks up to. It's a good thing he can take a punch.
Nubia: Real One by L. L. McKinney and Robyn Smith
Synopsis: Can you be a hero…if society doesn't see you as a person?
Nubia has always been a little bit…different. As a baby she showcased Amazonian-like strength by pushing over a tree to rescue her neighbor's cat. But, despite having similar abilities, the world has no problem telling her that she's no Wonder Woman. And even if she was, they wouldn't want her. Every time she comes to the rescue, she's reminded of how people see her; as a threat. Her moms do their best to keep her safe, but Nubia can't deny the fire within her, even if she's a little awkward about it sometimes. Even if it means people assume the worst.
When Nubia's best friend, Quisha, is threatened by a boy who thinks he owns the town, Nubia will risk it all–her safety, her home, and her crush on that cute kid in English class–to become the hero society tells her she isn't.
From the witty and powerful voice behind A Blade So Black and with endearing and expressive art by Robyn Smith, comes a vital story for today about equality, identity and kicking it with your squad.
Synopsis: A powerful and timely teen graphic novel memoir—perfect for fans of American Born Chinese and Hey, Kiddo—about a Korean-born, non-English-speaking girl who is abruptly transplanted from Seoul to Huntsville, Alabama, and struggles with extreme culture shock and isolation, until she discovers her passion for comic arts.
For as long as she can remember, it's been Robin and her mom against the world. Growing up in the 1990s as the only child of a single mother in Seoul, Korea, wasn't always easy, but it has bonded them fiercely together.
So when a vacation to visit friends in Huntsville, Alabama, unexpectedly becomes a permanent relocation—following her mother's announcement that she's getting married—Robin is devastated. Overnight, her life changes. She is dropped into a new school where she doesn't understand the language and struggles to keep up. She is completely cut off from her friends at home and has no access to her beloved comics. At home, she doesn't fit in with her new stepfamily. And worst of all, she is furious with the one person she is closest to—her mother.
Then one day Robin's mother enrolls her in a local comic drawing class, which opens the window to a future Robin could never have imagined.
Synopsis: From the award-winning author of Princess Princess Ever After comes THE TEA DRAGON SOCIETY, the beloved and charming all-ages book that follows the story of Greta, a blacksmith apprentice, and the people she meets as she becomes entwined in the enchanting world of tea dragons. After discovering a lost tea dragon in the marketplace, Greta learns about the dying art form of tea dragon care-taking from the kind tea shop owners, Hesekiel and Erik. As she befriends them and their shy ward, Minette, Greta sees how the craft enriches their lives–and eventually her own.
Twins by Varian Johnson and Shannon Wright
Synopsis: Coretta Scott King Honor author Varian Johnson teams up with rising cartoonist Shannon Wright for a delightful middle-grade graphic novel!
Maureen and Francine Carter are twins and best friends. They participate in the same clubs, enjoy the same foods, and are partners on all their school projects. But just before the girls start sixth grade, Francine becomes Fran — a girl who wants to join the chorus, run for class president, and dress in fashionable outfits that set her apart from Maureen. A girl who seems happy to share only two classes with her sister!
Maureen and Francine are growing apart and there's nothing Maureen can do to stop it. Are sisters really forever? Or will middle school change things for good?
Synopsis: New York Times bestselling author Jerry Craft returns with a companion book to New Kid, winner of the 2020 Newbery Medal, the Coretta Scott King Author Award, and the Kirkus Prize. This time, it's Jordan's friend Drew who takes center stage in another laugh-out-loud funny, powerful, and important story about being one of the few kids of color in a prestigious private school.
Eighth grader Drew Ellis is no stranger to the saying "You have to work twice as hard to be just as good." His grandmother has reminded him his entire life. But what if he works ten times as hard and still isn't afforded the same opportunities that his privileged classmates at the Riverdale Academy Day School take for granted?
To make matters worse, Drew begins to feel as if his good friend Liam might be one of those privileged kids. He wants to pretend like everything is fine, but it's hard not to withdraw, and even their mutual friend Jordan doesn't know how to keep the group together.
As the pressures mount, will Drew find a way to bridge the divide so he and his friends can truly accept each other? And most important, will he finally be able to accept himself?
New Kid, the first graphic novel to win the Newbery Medal, is now joined by Jerry Craft's powerful Class Act.
Long Way Down by Jason Reynolds and Danica Novgorodoff
Synopsis: Jason Reynolds's Newbery Honor, Printz Honor, and Coretta Scott King Honor-winning, #1 New York Times bestselling novel Long Way Down is now a gripping, galvanizing graphic novel, with haunting artwork by Danica Novgorodoff.
Will's older brother, Shawn, has been shot.
Dead.
Will feels a sadness so great, he can't explain it. But in his neighborhood, there are THE RULES:
No. 1: Crying.
Don't.
No matter what.
No. 2: Snitching
Don't.
No matter what.
No. 3: Revenge
Do.
No matter what.
But bullets miss. You can get the wrong guy. And there's always someone else who knows to follow the rules…
Maus by Art Spiegelman
Synopsis: A story of a Jewish survivor of Hitler's Europe and his son, a cartoonist who tries to come to terms with his father's story and history itself.
Synopsis: All Jin Wang wants is to fit in. When his family moves to a new neighborhood, he suddenly finds that he's the only Chinese American student at his school. Jocks and bullies pick on him constantly, and he has hardly any friends. Then, to make matters worse, he falls in love with an all-American girl…
Born to rule over all the monkeys in the world, the story of the Monkey King is one of the oldest and greatest Chinese fables. Adored by his subjects, master of the arts of kung-fu, he is the most powerful monkey on earth. But the Monkey King doesn't want to be a monkey. He wants to be hailed as a god…
Chin-Kee is the ultimate negative Chinese stereotype, and he's ruining his cousin Danny's life. Danny's a popular kid at school, but every year Chin-Kee comes to visit, and every year Danny has to transfer to a new school to escape the shame. This year, though, things quickly go from bad to worse…
These three apparently unrelated tales come together with an unexpected twist, in a modern fable that is hilarious, poignant and action-packed. American Born Chinese is an amazing rise, all the way up to the astonishing climax–and confirms what a growing number of readers already know: Gene Yang is a major talent.
Synopsis: Starting at a new school is scary, even more so with a giant hearing aid strapped to your chest! At her old school, everyone in Cece's class was deaf. Here she is different. She is sure the kids are staring at the Phonic Ear, the powerful aid that will help her hear her teacher. Too bad it also seems certain to repel potential friends.
Then Cece makes a startling discovery. With the Phonic Ear she can hear her teacher not just in the classroom, but anywhere her teacher is in school — in the hallway… in the teacher's lounge… in the bathroom! This is power. Maybe even superpower! Cece is on her way to becoming El Deafo, Listener for All. But the funny thing about being a superhero is that it's just another way of feeling different… and lonely. Can Cece channel her powers into finding the thing she wants most, a true friend?
This funny perceptive graphic novel memoir about growing up hearing impaired is also an unforgettable book about growing up, and all the super and super embarrassing moments along the way.
Flamer by Mike Curato
Synopsis: A YA graphic novel about a 14-year-old boy who is bullied at Boy Scout camp, with near-fatal consequences.
Synopsis: Charlie, a highly-strung, openly gay over-thinker, and Nick, a cheerful, soft-hearted rugby player, meet at a British all-boys grammar school. Friendship blooms quickly, but could there be something more…?
Charlie Spring is in Year 10 at Truham Grammar School for Boys. The past year hasn't been too great, but at least he's not being bullied anymore, and he's sort of got a boyfriend, even if he's kind of mean and only wants to meet up in secret.
Nick Nelson is in Year 11 and on the school rugby team. He's heard a little about Charlie – the kid who was outed last year and bullied for a few months – but he's never had the opportunity to talk to him. That is, until the start of January, in which Nick and Charlie are placed in the same form group and made to sit together.
They quickly become friends, and soon Charlie is falling hard for Nick, even though he doesn't think he has a chance. But love works in surprising ways, and sometimes good things are waiting just around the corner…
From the author of Solitaire and Radio Silence comes a bind up of the first two chapters of Heartstopper, an ongoing webcomic.
Synopsis: Author Mariko Tamaki and illustrator Rosemary Valero-O'Connell bring to life a sweet and spirited tale of young love in Laura Dean Keeps Breaking Up with Me, a graphic novel that asks us to consider what happens when we ditch the toxic relationships we crave to embrace the healthy ones we need.
Laura Dean, the most popular girl in high school, was Frederica Riley's dream girl: charming, confident, and SO cute. There's just one problem: Laura Dean is maybe not the greatest girlfriend.
Reeling from her latest break up, Freddy's best friend, Doodle, introduces her to the Seek-Her, a mysterious medium, who leaves Freddy some cryptic parting words: break up with her. But Laura Dean keeps coming back, and as their relationship spirals further out of her control, Freddy has to wonder if it's really Laura Dean that's the problem. Maybe it's Freddy, who is rapidly losing her friends, including Doodle, who needs her now more than ever.
Fortunately for Freddy, there are new friends, and the insight of advice columnists like Anna Vice to help her through being a teenager in love.
Synopsis: The book tells an intergenerational story of a mother and son struggling to relate to each other—the mother an immigrant to the United States who wants to make a home for her family in an unfamiliar country; the son trying to figure out the best way to come out to his parents. Through telling each other fairy tales, they're able to find common ground.
Measuring Up by Lily LaMotte and Ann Xu
Synopsis: Clarissa Wong at HarperCollins has bought, in a preempt, debut author Lily LaMotte's (l.) graphic novel, Measuring Up, for new graphic novel imprint Harper Alley, in a two-book world rights deal. Ann Xu will illustrate; publication is slated for fall 2020. In the story, a girl enters a cooking competition to win money to bring her beloved Amah to America, and must figure out a way to blend her Taiwanese culture and her new American identity as she channels her inner Julia Child. Laura Rennert at Andrea Brown Literary Agency represented the author, and Susan Graham at Einstein Literary Management represented the illustrator.
March by John Lewis
Synopsis: Congressman John Lewis (GA-5) was an American icon, one of the key figures of the civil rights movement. His commitment to justice and nonviolence took him from an Alabama sharecropper's farm to the halls of Congress, from a segregated schoolroom to the 1963 March on Washington, and from receiving beatings from state troopers to receiving the Medal of Freedom from the first African-American president.
Now, to share his remarkable story with new generations, Lewis presents March, a graphic novel trilogy, in collaboration with co-writer Andrew Aydin and New York Times best-selling artist Nate Powell (winner of the Eisner Award and LA Times Book Prize finalist for Swallow Me Whole).
March is a vivid first-hand account of John Lewis' lifelong struggle for civil and human rights, meditating in the modern age on the distance traveled since the days of Jim Crow and segregation. Rooted in Lewis' personal story, it also reflects on the highs and lows of the broader civil rights movement.
Book One spans John Lewis' youth in rural Alabama, his life-changing meeting with Martin Luther King, Jr., the birth of the Nashville Student Movement, and their battle to tear down segregation through nonviolent lunch counter sit-ins, building to a stunning climax on the steps of City Hall.
Many years ago, John Lewis and other student activists drew inspiration from the 1950s comic book "Martin Luther King and the Montgomery Story." Now, his own comics bring those days to life for a new audience, testifying to a movement whose echoes will be heard for generations.
Synopsis: A teenager is pulled back in time to witness her grandmother's experiences in World War II-era Japanese internment camps in Displacement, a historical graphic novel from Kiku Hughes.
Kiku is on vacation in San Francisco when suddenly she finds herself displaced to the 1940s Japanese-American internment camp that her late grandmother, Ernestina, was forcibly relocated to during World War II.
These displacements keep occurring until Kiku finds herself stuck back in time. Living alongside her young grandmother and other Japanese-American citizens in internment camps, Kiku gets the education she never received in history class. She witnesses the lives of Japanese-Americans who were denied their civil liberties and suffered greatly, but managed to cultivate community and commit acts of resistance in order to survive.
Kiku Hughes weaves a riveting, bittersweet tale that highlights the intergenerational impact and power of memory.
Synopsis: Middle-schooler Bina is having the best time playing in her new band with her friends, Darcy and Enzo. But both the band and her friendships begin to crumble when Darcy and Enzo start dating, effectively relegating Bina to third-wheel status.
To make matters worse, Bina's best friend, Austin, starts developing a crush on her . . . one she is not sure she reciprocates. Now Bina must follow her heart. Can she navigate its twists and turns before the lights come up and the music starts playing?
Synopsis: Heartbreak and hope exist together in this remarkable graphic novel about growing up in a refugee camp, as told by a Somali refugee to the Newbery Honor-winning creator of Roller Girl.
Omar and his younger brother, Hassan, have spent most of their lives in Dadaab, a refugee camp in Kenya. Life is hard there: never enough food, achingly dull, and without access to the medical care Omar knows his nonverbal brother needs. So when Omar has the opportunity to go to school, he knows it might be a chance to change their future . . . but it would also mean leaving his brother, the only family member he has left, every day.
Heartbreak, hope, and gentle humor exist together in this graphic novel about a childhood spent waiting, and a young man who is able to create a sense of family and home in the most difficult of settings. It's an intimate, important, unforgettable look at the day-to-day life of a refugee, as told to New York Times Bestselling author/artist Victoria Jamieson by Omar Mohamed, the Somali man who lived the story.
Synopsis: A graphic novel of friendship, family, and what happens when you defy and exceed expectations.
Donut (middle name: The; last name: Destroyer) has a heart of gold and incredible strength. She lives in a world where everyone is born with a special ability and can choose whether to develop it for good or evil. Donut has just received the best news of her life — she's been accepted to Lionheart School for Heroes! But her parents are the most infamous villains around, and her best friend, Ivy, can't understand why Donut would choose a life of boring heroism and ruin their plans to cause chaos. Donut is determined to prove that, despite her last name, she's meant to go her own way and be a hero. Meanwhile, Ivy cooks up a plan to get Donut kicked out of Lionheart — and back on track to villainy!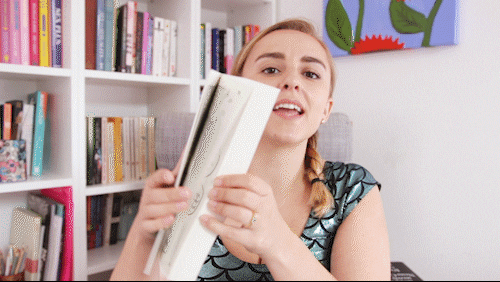 This post includes affiliate links to Bookshop. Using my affiliate link is one way you can support my page. It doesn't change the price of the book in any way but I would get a small percentage of the sale (which I would then use to buy more books from indie booksellers.)