Hey y'all! As many of you know, I'm double majoring in Psychology and English. I love to analyze both books and people, but mental illness awareness is especially important for me. Whenever I hear that there's great mental illness rep in a story, I immediately add it to my TBR.
Several of these are books I've read already while a few are ones I haven't. I'll link to the reviews for the ones I have up. Keep in mind that a few of these reviews are also a little older so please don't judge me. Without further ado, here are the books:
Synopsis: Adam has just been diagnosed with schizophrenia. He sees and hears people who aren't there: Rebecca, a beautiful girl who understands him; the Mob Boss, who harasses him; and Jason, the naked guy who's unfailingly polite. It should be easy to separate the real from the not real, but Adam can't.
Still, there's hope. As Adam starts fresh at a new school, he begins a drug trial that helps him ignore his visions. Suddenly everything seems possible, even love. When he meets Maya, a fiercely intelligent girl, he desperately wants to be the great guy that she thinks he is. But then the miracle drug begins to fail, and Adam will do anything to keep Maya from discovering his secret.
Synopsis: Liz Lighty has always believed she's too black, too poor, too awkward to shine in her small, rich, prom-obsessed midwestern town. But it's okay — Liz has a plan that will get her out of Campbell, Indiana, forever: attend the uber-elite Pennington College, play in their world-famous orchestra, and become a doctor.
But when the financial aid she was counting on unexpectedly falls through, Liz's plans come crashing down . . . until she's reminded of her school's scholarship for prom king and queen. There's nothing Liz wants to do less than endure a gauntlet of social media trolls, catty competitors, and humiliating public events, but despite her devastating fear of the spotlight she's willing to do whatever it takes to get to Pennington.
The only thing that makes it halfway bearable is the new girl in school, Mack. She's smart, funny, and just as much of an outsider as Liz. But Mack is also in the running for queen. Will falling for the competition keep Liz from her dreams . . . or make them come true?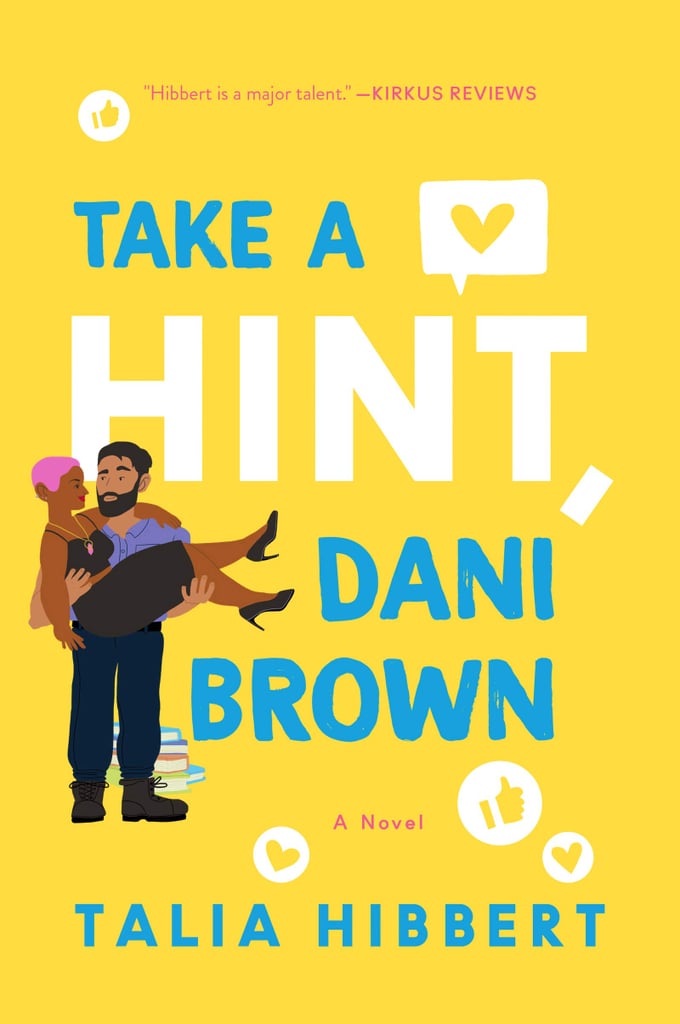 Synopsis: Talia Hibbert returns with another charming romantic comedy about a young woman who agrees to fake date her friend after a video of him "rescuing" her from their office building goes viral…
Danika Brown knows what she wants: professional success, academic renown, and an occasional roll in the hay to relieve all that career-driven tension. But romance? Been there, done that, burned the T-shirt. Romantic partners, whatever their gender, are a distraction at best and a drain at worst. So Dani asks the universe for the perfect friend-with-benefits—someone who knows the score and knows their way around the bedroom.
When brooding security guard Zafir Ansari rescues Dani from a workplace fire drill gone wrong, it's an obvious sign: PhD student Dani and ex-rugby player Zaf are destined to sleep together. But before she can explain that fact, a video of the heroic rescue goes viral. Now half the internet is shipping #DrRugbae—and Zaf is begging Dani to play along. Turns out, his sports charity for kids could really use the publicity. Lying to help children? Who on earth would refuse?
Dani's plan is simple: fake a relationship in public, seduce Zaf behind the scenes. The trouble is, grumpy Zaf's secretly a hopeless romantic—and he's determined to corrupt Dani's stone-cold realism. Before long, he's tackling her fears into the dirt. But the former sports star has issues of his own, and the walls around his heart are as thick as his… um, thighs.
Suddenly, the easy lay Dani dreamed of is more complex than her thesis. Has her wish backfired? Is her focus being tested? Or is the universe just waiting for her to take a hint?
Synopsis: Daniel is the back-up punter for the Erie Hills Elephants. Which really means he's the water boy. He spends football practice perfectly arranging water cups—and hoping no one notices. Actually, he spends most of his time hoping no one notices his strange habits—he calls them Zaps: avoiding writing the number four, for example, or flipping a light switch on and off dozens of times over. He hopes no one notices that he's crazy, especially his best friend Max, and Raya, the prettiest girl in school. His life gets weirder when another girl at school, who is unkindly nicknamed Psycho Sara, notices him for the first time. She doesn't just notice him: she seems to peer through him.
Then Daniel gets a note: "I need your help," it says, signed, Fellow Star Child—whatever that means. And suddenly Daniel, a total no one at school, is swept up in a mystery that might change everything for him.
With great voice and grand adventure, this book is about feeling different and finding those who understand.
Synopsis: It all begins with a fugitive billionaire and the promise of a cash reward. Turtles All the Way Down is about lifelong friendship, the intimacy of an unexpected reunion, Star Wars fan fiction, and tuatara. But at its heart is Aza Holmes, a young woman navigating daily existence within the ever-tightening spiral of her own thoughts.
In his long-awaited return, John Green shares Aza's story with shattering, unflinching clarity.
Synopsis: "I am sixteen years old. I am a human being."
Actually Sarah is several human beings. At once. And only one of them is sixteen. Her parents insist she's a gifted artist with a bright future, but now she can't draw a thing, not even her own hand. Meanwhile, there's a ten-year-old Sarah with a filthy mouth, a bad sunburn, and a clear memory of the family vacation in Mexico that ruined everything. She's a ray of sunshine compared to twenty-three-year-old Sarah, who has snazzy highlights and a bad attitude. And then there's forty-year-old Sarah (makes good queso dip, doesn't wear a bra, really wants sixteen-year-old Sarah to tell the truth about her art teacher). They're all wandering Philadelphia—along with a homeless artist allegedly named Earl—and they're all worried about Sarah's future.
But Sarah's future isn't the problem. The present is where she might be having an existential crisis. Or maybe all those other Sarahs are trying to wake her up before she's lost forever in the tornado of violence and denial that is her parents' marriage.
"I am a human being. I am sixteen years old. That should be enough."
Synopsis: Trapped in sunny, stifling, small-town suburbia, seventeen-year-old Morgan knows why she's in therapy. She can't count the number of times she's been the only non-white person at the sleepover, been teased for her "weird" outfits, and been told she's not "really" black. Also, she's spent most of her summer crying in bed. So there's that, too.
Lately, it feels like the whole world is listening to the same terrible track on repeat—and it's telling them how to feel, who to vote for, what to believe. Morgan wonders, when can she turn this song off and begin living for herself?
Life may be a never-ending hamster wheel of agony, but Morgan finds her crew of fellow outcasts, blasts music like there's no tomorrow, discovers what being black means to her, and finally puts her mental health first. She decides that, no matter what, she will always be intense, ridiculous, passionate, and sometimes hilarious. After all, darkness doesn't have to be a bad thing. Darkness is just real.
Synopsis: Forced to become a child soldier, a sixteen-year-old Somali refugee must confront his painful past in this haunting, thrilling tale of loss and redemption for fans of A Long Way Gone and What is the What
When Abdi's family is kidnapped, he's forced to do the unthinkable: become a child soldier with the ruthless jihadi group Al Shabaab. In order to save the lives of those he loves, and earn their freedom, Abdi agrees to be embedded as a spy within the militia's ranks and to send dispatches on their plans to the Americans. The jihadists trust Abdi immediately because his older brother, Dahir, is already one of them, protégé to General Idris, aka the Butcher. If Abdi's duplicity is discovered, he will be killed.
For weeks, Abdi trains with them, witnessing atrocity after atrocity, becoming a monster himself, wondering if he's even pretending anymore. He only escapes after he is forced into a suicide bomber's vest, which still leaves him stumps where two of his fingers used to be and his brother near death. Eventually, he finds himself on the streets of Sangui City, Kenya, stealing what he can find to get by, sleeping nights in empty alleyways, wondering what's become of the family that was stolen from him. But everything changes when Abdi's picked up for a petty theft, which sets into motion a chain reaction that forces him to reckon with a past he's been trying to forget.
In this riveting, unflinching tale of sacrifice and hope, critically-acclaimed author Natalie C. Anderson delivers another tour-de-force that will leave readers at the edge of their seats.
Synopsis: Darius doesn't think he'll ever be enough, in America or in Iran.
Darius Kellner speaks better Klingon than Farsi, and he knows more about Hobbit social cues than Persian ones. He's about to take his first-ever trip to Iran, and it's pretty overwhelming–especially when he's also dealing with clinical depression, a disapproving dad, and a chronically anemic social life. In Iran, he gets to know his ailing but still formidable grandfather, his loving grandmother, and the rest of his mom's family for the first time. And he meets Sohrab, the boy next door who changes everything.
Sohrab makes sure people speak English so Darius can understand what's going on. He gets Darius an Iranian National Football Team jersey that makes him feel like a True Persian for the first time. And he understands that sometimes, best friends don't have to talk. Darius has never had a true friend before, but now he's spending his days with Sohrab playing soccer, eating rosewater ice cream, and sitting together for hours in their special place, a rooftop overlooking the Yazdi skyline.
Sohrab calls him Darioush–the original Persian version of his name–and Darius has never felt more like himself than he does now that he's Darioush to Sohrab. When it's time to go home to America, he'll have to find a way to be Darioush on his own.
Synopsis: Sixteen-year-old Solomon is agoraphobic. He hasn't left the house in three years, which is fine by him.
Ambitious Lisa desperately wants to get into the second-best psychology program for college (she's being realistic). But is ambition alone enough to get her in?
Enter Lisa.
Determined to "fix" Sol, Lisa steps into his world, along with her charming boyfriend, Clark, and soon the three form an unexpected bond. But, as Lisa learns more about Sol and he and Clark grow closer and closer, the walls they've built around themselves start to collapse and their friendships threaten to do the same.
Synopsis: Leigh Chen Sanders is absolutely certain about one thing: When her mother died by suicide, she turned into a bird.
Leigh, who is half Asian and half white, travels to Taiwan to meet her maternal grandparents for the first time. There, she is determined to find her mother, the bird. In her search, she winds up chasing after ghosts, uncovering family secrets, and forging a new relationship with her grandparents. And as she grieves, she must try to reconcile the fact that on the same day she kissed her best friend and longtime secret crush, Axel, her mother was taking her own life.
Alternating between real and magic, past and present, friendship and romance, hope and despair, The Astonishing Color of After is a novel about finding oneself through family history, art, grief, and love.
Synopsis: Seventeen-year-old Molly Peskin-Suso knows all about unrequited love—she's lived through it twenty-six times. She crushes hard and crushes often, but always in secret. Because no matter how many times her twin sister, Cassie, tells her to woman up, Molly can't stomach the idea of rejection. So she's careful. Fat girls always have to be careful.
Then a cute new girl enters Cassie's orbit, and for the first time ever, Molly's cynical twin is a lovesick mess. Meanwhile, Molly's totally not dying of loneliness—except for the part where she is. Luckily, Cassie's new girlfriend comes with a cute hipster-boy sidekick. Will is funny and flirtatious and just might be perfect crush material. Maybe more than crush material. And if Molly can win him over, she'll get her first kiss and she'll get her twin back.
There's only one problem: Molly's coworker Reid. He's an awkward Tolkien superfan with a season pass to the Ren Faire, and there's absolutely no way Molly could fall for him. Right?
Synopsis: A music-loving teen with OCD does everything she can to find her way back to her mother during the historic race riots in 1969 Kuala Lumpur, Malaysia, in this heart-pounding literary debut.
Melati Ahmad looks like your typical moviegoing, Beatles-obsessed sixteen-year-old. Unlike most other sixteen-year-olds though, Mel also believes that she harbors a djinn inside her, one who threatens her with horrific images of her mother's death unless she adheres to an elaborate ritual of counting and tapping to keep him satisfied.
But there are things that Melati can't protect her mother from. On the evening of May 13th, 1969, racial tensions in her home city of Kuala Lumpur boil over. The Chinese and Malays are at war, and Mel and her mother become separated by a city in flames.
With a 24-hour curfew in place and all lines of communication down, it will take the help of a Chinese boy named Vincent and all of the courage and grit in Melati's arsenal to overcome the violence on the streets, her own prejudices, and her djinn's surging power to make it back to the one person she can't risk losing.
Synopsis: When Suzette comes home to Los Angeles from her boarding school in New England, she isn't sure if she'll ever want to go back. L.A. is where her friends and family are (along with her crush, Emil). And her stepbrother, Lionel, who has been diagnosed with bipolar disorder, needs her emotional support.
But as she settles into her old life, Suzette finds herself falling for someone new…the same girl her brother is in love with. When Lionel's disorder spirals out of control, Suzette is forced to confront her past mistakes and find a way to help her brother before he hurts himself–or worse.
Synopsis: Struggling with an anxiety disorder compounded by their parents' rejection, they come out only to Hannah, Thomas, and their therapist and try to keep a low profile in a new school.
But Ben's attempts to survive the last half of senior year unnoticed are thwarted when Nathan Allan, a funny and charismatic student, decides to take Ben under his wing. As Ben and Nathan's friendship grows, their feelings for each other begin to change, and what started as a disastrous turn of events looks like it might just be a chance to start a happier new life.
At turns heartbreaking and joyous, I Wish You All the Best is both a celebration of life, friendship, and love, and a shining example of hope in the face of adversity.
Have you read any of these? What are your favorite books with mental illness rep? What are some other lists you'd like to see? Let me know in the comments below, let's chat!