Hey y'all and happy "Candy on Sale" Day! I don't know about you but I'll be at my local grocery store on this fine morning to stock up on half price chocolate. While you're at it, why don't you get a steaming beverage (preferably hot chocolate) a cozy soon to be winter-themed blanket, and have a seat after all that shopping so we can settle in for a chat.
Let's Catch Up is basically just my version of a weekly wrap-up. I really love these catch up sessions and seeing what all of you have to say about your own weeks so feel free to comment below.
Life Update
This week has honestly been a great one. I've been continuing down that gardening journey and it's been absolutely wonderful! I joined a few gardening groups on Facebook (after learning how to use Facebook) and I was able to meet up with someone from the Florida Native Gardening group and she gave me 5 Florida native flowers that I'll be planting in my garden soon. Now I'm a million times more excited to start the actual digging part.
I've spent a lot of time this week pulling out weeds and invasive plants that were in the area. I also set up a little border with some cement blocks that have been in the yard since before we moved in. My parents got some root killer from Home Depot to help deal with some of the tougher invasive plants that are growing in the area so I should be ready to start planting my natives this week.
School has finally chilled out. No more midterms to stress out about. Now I'm just riding the low waves until finals.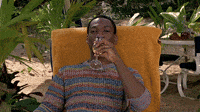 It was a much sunnier week so my grandma and I were able to go walking again. We also did a little shopping together this week (mainly groceries) and that was a nice change of pace from being at home all day.
I visited my cousins yesterday and had a blast, as usual. Their parents just got them Minecraft and they're obsessed, especially my middle cousin. She already had a book on Minecraft that she'd been studying. She showed me how to play and I'm honestly astounded by how much goes on in that game. I thought it was just people building houses and towns but it's actually so much more than that.
Blogging Update
I know last week I said I'd be catching up on book reviews but… I kind of got lazy so I only finished one. On the bright side, I only have two others that needed to be done (and one more if you count the book I finished this week) so I'm not THAT behind.
My bookstagram is still going strong. I've posted reels, as usual, but I also tried posting a few more photos this week. The Black Boy Joy event was Thursday so of course I had to post about it in anticipation. The event itself was so wonderful and I'm so happy these four amazing authors got together to spread that joy.
What Did I Miss?
Now here's the part where I tell you about what I posted this week and you go check out anything you may have missed. Only two posts this week so that'll be easy.
I finally finished my review for Allegedly and y'all… This book was something. It was also my first time buddy reading so if you want to hear more about that, definitely check out the post.
As part of the Hear Our Voices book tour for Come On In, I got to interview Alaya Dawn Johnson and she gave such wonderful answers. Alaya is such an interesting person who writes such interesting stories.
A Recent Watchlist
I've been watching a lot of movies lately. I think I tend to prefer movies around this time of year, especially when it gets cool enough to wear a blanket without the A/C being super low. These are the movies I watched this week.
Crazy Rich Asians
I read the book this summer in large part because I wanted to see the movie. I was able to record it and finally watch the film and I honestly really enjoyed it. I think they did a great job of following Nick and Rachel's story without making things super confusing. All of the actors were gorgeous and if they cut me with their cheekbones I wouldn't even be mad.
Matilda
This is just a classic that always warms my heart. It was one of my favorite movies growing up and watching it back made me realize just how much this film still means to me. I'll probably end up watching it again in a month or so.
Twilight
Last week I talked about Amanda's twilight videos and this week I actually watched Twilight so I guess you can say we're going full circle with this one. Freeform was having a marathon yesterday so I recorded all the movies and plan on finishing the rest throughout the week. I watched the first one though and I totally see why I loved it as a pre-teen. The melodrama just hits different now.
How was your week? What's your favorite candy? Have you seen the Twilight movies? Let me know in the comments below, let's chat!
Thank you for catching up with me today! It's been a really nice one and I hope to see you again next week.