Hey y'all! This was my first ever buddy read and it did not disappoint. I've wanted to read Allegedly ever since I finished Monday's Not Coming last year but I was also super scared of how it would leave me. Well, I had good reason for that.
This is going to be a no spoilers review and I won't talk much about the plot because it's better to know less going into this one.
Mary B. Addison killed a baby.
Allegedly. She didn't say much in that first interview with detectives, and the media filled in the only blanks that mattered: A white baby had died while under the care of a churchgoing black woman and her nine-year-old daughter. The public convicted Mary and the jury made it official. But did she do it? She wouldn't say.
Mary survived six years in baby jail before being dumped in a group home. The house isn't really "home"—no place where you fear for your life can be considered a home. Home is Ted, who she meets on assignment at a nursing home.
There wasn't a point to setting the record straight before, but now she's got Ted—and their unborn child—to think about. When the state threatens to take her baby, Mary must find the voice to fight her past. And her fate lies in the hands of the one person she distrusts the most: her Momma. No one knows the real Momma. But who really knows the real Mary?
Trigger Warnings: death of an infant, murder, homophobic slurs, colorism, domestic abuse, teen pregnancy, reference to rape, reference to abortion, trauma, suicidal ideation, reference to incest
Representation: Black main character, Latinx supporting characters, mental illness
The Good
Wow, this was a thriller for sure. I'm sure I've said this before but I'm just going to keep saying it: Tiffany D. Jackson is the queen of YA thrillers. No, not "Black YA thrillers." She's the queen of YA thrillers, period. Homegirl gets stuck in my head the whole way through. I stayed up until almost 4 AM reading this. Yes, it was that serious.
I read Allegedly with my Bookstagram buddy Nicole from @cosmicnreads and it was a first for both of us. It was so much fun having someone to talk to about it and we both had a hard time putting the book down. Nicole ended up finishing Allegedly before me but I made sure to finish it soon after so we could discuss all the wildness.
We really get into the head of Mary for the entirety of the story. I mentioned in my review of The Field Guide to the North American Teenager how important it is to have a limited perspective with a first person Point of View and that works especially well for a psychological thriller like this one. And when I say we were in Mary's head, I mean it. It's told so well, to the point that you're starting to think like Mary.
Ooo the tears, chile. I was so emotionally invested. When I tell you I CRIED! This was me towards the middle: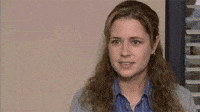 This was me the entire second half: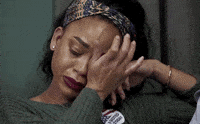 The Not so Good
This is a super heavy book with super heavy topics so be prepared to go into it. I've listed the triggers that I spotted above but please check other reviews and trigger warnings if you're unsure about going into it because there could be some that I missed. As with all psychological thrillers but especially this one, make sure you're in the right mental head space when going into it.
There were a couple things that I felt were a little more predictable than when I read Monday's Not Coming but it was still wild nonetheless.
All in All
This book had me shook and now I'm all the more ready to read Grown but also even more scared to read it. Tiffany D. Jackson gets me every time.
This book is perfect for fans of psychological thrillers, real life issues, and mystery.
4.5/5 Stars