Hey y'all! So you know how I've been screaming about Charming as a Verb ever since I heard about it? Well, I decided to check out Ben Philippe's first book to mull me over until I got my hands on that new release.
I listened to the audiobook of The Field Guide to the North American Teenager via the CloudLibrary app well over a month ago but I've been trying to figure out how to put my many feelings into words. This is going to be that attempt.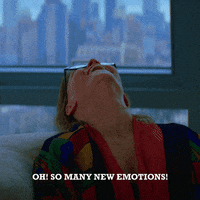 StoryGraph Synopsis
Norris Kaplan is clever, cynical, and quite possibly too smart for his own good. A black French Canadian, he knows from watching American sitcoms that those three things don't bode well when you are moving to Austin, Texas. Plunked into a new high school and sweating a ridiculous amount from the oppressive Texas heat, Norris finds himself cataloging everyone he meets: the Cheerleaders, the Jocks, the Loners, and even the Manic Pixie Dream Girl. Making a ton of friends has never been a priority for him, and this way he can at least amuse himself until it's time to go back to Canada, where he belongs.
Yet, against all odds, those labels soon become actual people to Norris. Be it loner Liam, who makes it his mission to befriend Norris, or Madison the beta cheerleader, who is so nice that it has to be a trap. Not to mention Aarti the Manic Pixie Dream Girl, who might, in fact, be a real love interest in the making. He even starts playing actual hockey with these Texans.
But the night of the prom, Norris screws everything up royally. As he tries to pick up the pieces, he realizes it might be time to stop hiding behind his snarky opinions and start living his life—along with the people who have found their way into his heart.
Trigger Warnings: divorced parents, bullying, microaggressions, slut shaming (gets called out though), reference to suicide attempt, underage drinking, vomit, mention of drug abuse, reference to police brutality
Representation: Haitian main character, Indian love interest, gay side character
The Good
It's very high school, in a good way. I could see my 16-year-old self reading this and being like, yeah, that's what high school is kind of like. I'm pretty sure 16-year-old me would've loved this, too. It's also super hilarious and I found myself literally laughing out loud as I read it. And I mean hearty, from your gut laughs.
The culture clash of being first gen was really nice to see. It's shown a little in Norris' life but it's really shown in Aarti. Even though Aarti wasn't a character I personally cared for, I really liked those moments when we saw her family and her personal struggle.
There's a wonderful discussion on mental illness and depression. If you know me, you know I absolutely love that in books. Mental illness needs to be discussed and it's placed into the story really well and I just-
The character development was done in a great way. I feel like this is a given for me but if the character development doesn't grab at my heart and squeeze, I'm just not gonna enjoy the book as much. This one definitely did what it needed to do and my heart was squeezed in the process.
The main character was so much fun. I'm pretty sure I've said this before, but I truly love messy main characters. It's nice seeing the imperfection and relating to it. Norris makes some truly stupid decisions and says some pretty messed up things at times, but didn't we all do things like that in high school? I know I did.
I also really liked how the characters interacted with one another. We really get to see who these people are below the surface and it's done so masterfully. Ben Philippe has this great way of using stereotypical high school clichés and then adding nuance to them. It reminds me of how Justin A. Reynolds adds nuance to common tropes. I just love the innovation.
Something I personally loved about this is that the romance isn't at the center of the narrative. Don't get me wrong, I love a good romance but when it comes to a high school coming-of-age novel I definitely prefer self-exploration over a romantic focus. I really like when we get to know the character as an individual and we definitely get that with Norris.
From a technical standpoint, this was such an excellent use of first person. I mentioned in my review of Color Me In the importance of the limited perspective that first person gives you and how ignoring that limit can cause so many issues with the narrative. Ben Philippe absolutely nails this use of first person. We're in Norris' head the entire time and we see things through his eyes. It's done so well that I couldn't imagine this story in a different point of view because it would then be a completely different story. That's just me being a writer nerd but I absolutely love it.
The Not so Good
I'm not a fan of the manic pixie dream girl trope (I didn't even read the synopsis before reading this so that's on me). This story tries to do something different with it and I do like the direction it took but I just have a really weird relationship with that trope. It's just not my thing. Thankfully the romance wasn't the main focus of the story so it wasn't too bad.
My actual complaint: Why is there not a sequel to this?
All in All
The Field Guide to the North American Teenager is yet another book that I wish existed when I was in high school. Even though it didn't back then, I'm happy I read it now. It's hilarious, thought provoking, and such a great time. Perfect for fans of Justin A. Reynolds, Jason Reynolds, and Maika and Maritza Moulite.
5/5 Stars
Have you read The Field Guide to the North American Teenager?
What books are you currently raving about?
How do you write your reviews?
Let me know in the comments below, let's chat!