Hey y'all! It turns out that I was actually pretty off on the theme last week. I must have skimmed the fine print or something because the challenge was to match the letters to your favorite CHARACTERS. Seeing as I am someone who immediately forgets character names (even while reading) this was definitely a struggle for me. But hey, I do love a good challenge.
Top 5 Tuesday was originally created by Shanah @ Bionic Book Worm. She has now passed the baton to Meeghan @ Meeghan Reads. She's truly a gem and to lighten the load, she's made this month alphabetical.
F is for Franny from Opposite of Always
Don't get me wrong, I absolutely love Jack, but Franny is just such an amazing person. I'd really love a spin-off with him navigating his relationship with his father. I think that would be really cool.
G is for Gustavo (Zan) from Jackpot
I'm currently reading Jackpot by Nic Stone and Zan has my whole heart right now. He's just so… adorable.
H is for Henri from Charming as a Verb
I was honestly stumped for this one. I was literally flipping through my books trying to find someone. Then I decided to take to Twitter and Mel suggested Henri. I wanted to keep this list to just books I've read, but considering this is my most anticipated release and it is a Haitian-American main character, Henri and I are basically family at this point.
I is for Isaiah from Isaiah Dunn is my Hero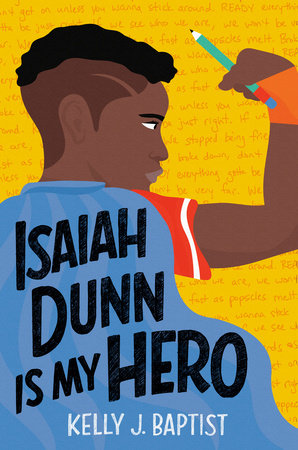 Isaiah Dunn is such a great kid and the love he has for his family is so sweet.
J is for Jasmine from Let Me Hear a Rhyme
Can we just take a moment to acknowledge how much of a baddie Jasmine is? She really went into this deal ready to get what she wanted and get out. Major baddie behavior, love to see it.
That's all from me today, so now it's your turn to answer some questions!
Did you do a Top 5 Tuesday? (Link it below)
Have you read any of these books?
Do you usually remember character names?
Let me know in the comments below, let's chat!