Hey y'all! It's that time of the week again. If you're new here, let's catch up is basically my form of a weekly wrap-up. Today, I'll be catching you up on my life, my books, and shouting out some people I just love in the book community. Go on then, grab a blanket, some snacks, and a steamy drink so we can catch up.
Life Update
School has started and I figured out which classes to drop and which I'll be keeping. I (sadly) decided to drop Literature of Women because the course load just seemed like too much for me right now, even though a bunch of the books we were going to read are actually in my TBR. I got a little overwhelmed last Spring and I didn't want a repeat of that, even if I did love the class material.
I bought an actual microphone so now I feel official. I mainly bought it for the voice overs I do on Fiverr. Now it'll be so much easier to record and the audio quality is just so good. My long term goal is to record children's audiobooks, so if you know anyone who's looking for someone, please let me know.
Remember that challenge I gave myself? The one about completing a manuscript in less than two weeks? Well, by the grace of God, I did it! I've already submitted my application to the Avengers of Colour Mentorship and I'm praying that I get accepted. Applications close tomorrow at midnight, so if you're BIPOC and have a manuscript that you want to start sending out to agents then you should totally check this opportunity out.
On a sadder note, the loss of Chadwick Boseman on Friday was honestly painful for me. His impact is one that will live on, I just know it. The way he changed the game in his roles, the way so many children have looked up to him. He has truly left behind a legacy.
Blogging Update
This week has been surprising smooth as far as blogging goes. I've been keeping up with my daily posts, for the time being. Posting daily hadn't been my initial goal for August, it just kind of happened that way. But, I'm happy it did. I've been overflowing with ideas lately and I have so many more that I can't wait to share.
I decided to become a Bookshop affiliate because I really love what they do and I want to continue spreading the word about them. If you'd like to help my blog out and you also want to support local bookstores, consider buying a book through my bookshop link. This doesn't change the price in any way, I just get a small percentage of your purchase (which I'll then use to buy more books from Cultured Books).
I've gotten several books in the mail lately. Some from giveaways, a couple from publishers, and others from friends. I'm really looking forward to getting to them and it's really nice seeing my little collection grow.
What did I miss?
This is the part where I tell you all about what I've posted this week and you check out the stuff that interests you. It's been a fun week of posts, so make sure to check out anything you might've missed.
I was nominated for the Outstanding Blogger Award by Lori @ The Reading Fairy. I am still feeling so honored by the nomination and thankful for the wonderful book blogging community. Make sure to check out my answers if you want to learn a little more about me.
This week's Top 5 Tuesday was a definite challenge but I think I chose ones that could work for me. Check out the five characters I would totally switch places with if given the chance.
The first week of classes is basically just reviewing the syllabus and watching my professors figure out how to use Zoom, so I've still been able to read. This week's WWW Wednesday was an interesting mix.
My review of P. S. I Still Love You is finally up. It took me a while to get through, but I finished it. It's a pretty short review and I might do a longer post about it later on. I'm still debating on that, though.
The long awaited review of Get a Life, Chloe Brown is finally up and I can't help but gush. This book was just so so good. I need a Redford Morgan in my own life and I want to be Chloe's friend so bad.
September is really trying to come for my check and honestly… I'm gonna let it. These are my 10 most anticipated releases of September and I can't wait for them to make their way into my loving arms.
Book Bloggers to Check Out
Ally @ Ally Writes Things made a post about all the Disaster Women books she'd like to read. She also mentioned this video about how Holes could be an allegory for the prison industrial complex in her non-bookish faves post and I loved watching that video. It's such a great analysis.
Saoudia @ With Love, Saoudia did an article for the Diverse Clan where she shouted out her favorite Black bookish creators and authors and I made that list! I am so honored. She also did an announcement for the Bratz-inspired readathon she's cohosting and that sounds like so much fun!
Meg @ A Little Shelf-Righteous made a post about adults reviewing YA books. She's a teen blogger and I really enjoyed hearing her perspective on the matter, especially since I'm someone who is an adult reviewing YA books.
Vicky @ Vicky Again matched her Spotify "On Repeat" to books in her TBR. I love the creativity. Matching songs to books is always so much fun, but I wouldn't have thought to try matching them to my TBR!
Briana @ Positively Briana Reads talked about her experiences with classics and why she hasn't read that many Black classics until recently. It was really interesting and definitely something I can relate to.
Zezee @ Zezee with Books posted about her anger at the state of the US, especially police brutality. It's an anger that I feel every time I see someone else abused at the hands of a system that was never created to protect us in the first place.
Mel @ Cotton Candy Book Witch posted some good bookish news. It was nice seeing that little light in the darkness.
Karla @ Another Bookworm posted her review of Take a Hint, Dani Brown (which I ended up finishing that same day) and we had a lot of similar thoughts about Zaf and how he's making us set our standards unrealistically high. Also, her rating system is absolutely amazing! She's so creative.
Booktubers to Check Out
These are just some videos I enjoyed this week. I was kind of behind in watching Booktube videos because of how busy I was, but I plan on catching up on everything today.
Tahiry posted this wonderful video about how fast fashion is a rich people problem and she made so many amazing points. I highly recommend watching this, even if you yourself don't purchase fast fashion.
I know I mentioned Noria last week but… she just does not miss. I have no choice but to stan. But in all honestly, I agreed with so much of this video, minus one trope. A lot of these tropes get on my last nerve.
I haven't read either of these books but I love how Monae was ready to fight these people over them. That's the kind of content I like to see on my feed.
Chloe posted her TBR for the Bratz readathon, which makes me want to do it all the more. The makeup look she did is just so cute!
This video from Cindy is both hilarious and informative. I haven't read ACOTAR, but if Cindy turned it into a Netflix adaptation, I'd watch it.
Chanelle dragged Goodreads while updating us on some of the books she read in 2020 and if that isn't some kind of metaphor… then make it one.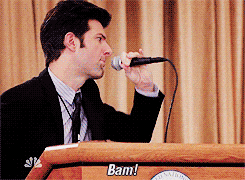 That was my week, how was yours?
What is something that surprised you this week?
Are you looking forward to anything for next week?
Let me know in the comments below, let's chat!