Hey y'all! Today's Tuesday, so you know what that means…
Top 5 Tuesday was originally created by Shanah @ Bionic Book Worm. She has now passed the baton to Meeghan @ Meeghan Reads. Meeghan has created some great topics for this month and I'm looking forward to what she'll be picking out for next month.
This one was a little tricky for me. If you've been here for a while now, you know that most of the books I read are heavy-hitting contemporaries. That being said, I found a few that I think could work.
Kate from Opposite of Always
Did you think I would shut up about Opposite of Always anytime soon? Nah, you know me better than that. I'd probably prefer the switch to happen after the events of the book, but honestly, I'd be okay with going through it. At least I wouldn't have memory of the past attempts Jack made, but I would have Jack. He's definitely up there on my list of fictional crushes.
April from Lumberjanes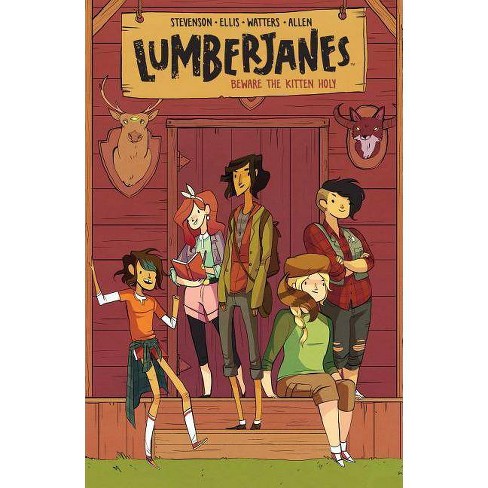 Lumberjanes is such a fun adventure. I feel like April and I have the closest personalities and I love her style. It seems like it would be cool to be a Lumberjane.
Steph from Slay
At first I was going to say Kiera, but I don't know anything about computer programming and it's not really something that interests me, so I decided to be her sister instead. Steph was really funny and I can definitely relate to her. I'd also have the added bonus of getting to play Slay without actually having to program it.
Parvaneh from A Man Called Ove
Parvaneh was such an interesting character. I mean, everyone in A Man Called Ove was interesting, but Parvaneh is definitely riding her own wave. I really liked the way she cared about Ove but would still pick at his nerves. She also has an adorably sweet, but clumsy husband and a wonderful family.
Annabeth Chase from the Percy Jackson and the Olympians Series
I couldn't think of any recent reads for this one so I decided to go with a major throwback. Annabeth was always one of my favorite characters and she's an all around cool person. I really want to reread the series at some point and then read The Heroes of Olympus. I stopped after The Son of Neptune because I had to wait a year for The Mark of Athena to come out but even after it did, it was always checked out from the library. Maybe that will be my next mission because this series really does mean so much to me.
And that's all from me. Now it's your turn to answer these questions!
Have you read any of these books?
Who would you choose to trade places with?
Did you participate in Top 5 Tuesday? (Link yours below)
Let me know in the comments below, let's chat!