Hey y'all, welcome to my ARC review of The Black Kids by Christina Hammonds Reeds. I'm part of the Hear Our Voices book tour for The Black Kids and my official date for the tour is tomorrow, so make sure to check back for some fun posts.
I feel like book twitter is always calling us out for how we're all in love with fictional people but y'all! LaShawn could like… get it. If LaShawn was real, just know he'd be my man no questions asked.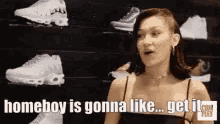 Trigger Warning: Racism, microaggressions, mention of depression, mention of suicide, physical abuse
Goodreads Synopsis
Los Angeles, 1992
Ashley Bennett and her friends are living the charmed life. It's the end of senior year and they're spending more time at the beach than in the classroom. They can already feel the sunny days and endless possibilities of summer.
Everything changes one afternoon in April, when four LAPD officers are acquitted after beating a black man named Rodney King half to death. Suddenly, Ashley's not just one of the girls. She's one of the black kids.
As violent protests engulf LA and the city burns, Ashley tries to continue on as if life were normal. Even as her self-destructive sister gets dangerously involved in the riots. Even as the model black family façade her wealthy and prominent parents have built starts to crumble. Even as her best friends help spread a rumor that could completely derail the future of her classmate and fellow black kid, LaShawn Johnson.
With her world splintering around her, Ashley, along with the rest of LA, is left to question who is the us? And who is the them?
The Good
The language of this story was stunning. The author has been writing since she was a kid and it shows. The way this story is narrated is done so beautifully. The imagery really got to me. It's really easy to get lost in Reed's writing. You might even get to a point where you feel like you're flying, too.
The character development was so well done. Ashley doesn't start off as the most likable character and that's okay. She makes mistakes and learns valuable lessons along the way. This story is as much about Ashley's development as it is about the city.
And on that note, it really felt like I was reading the story of a high schooler. Ashley's voice came off as so natural and authentic. A lot of the things she thought and did reminded me of my own high school experience.
The supporting characters were fully fleshed out. They each had their own personalities and backgrounds. There isn't a "villain" or "hero" in this story, just people trying to move forward as the world around them burns.
Last, but certainly not least, I love the historical backdrop. I wouldn't consider myself a 90s kid, I was actually born into one of the last months of the decade, but this definitely made me feel like I was one for a minute. You really get immersed into the culture of 1992 as you read the story.
The Not so Good
I can't think of anything inherently bad with this story. Ashley starts off as someone who's decisions you probably won't agree with, but she grows from that experience and there's something extra beautiful about that.
All in All
I really enjoyed this story and I'm so happy to have gotten an ARC. It was so well written and definitely gave me something to chew on. It's wild to see the way that history is repeating itself but this books couldn't have come out at a better time. If you care about the fight against racism, this should definitely be on your TBR.
4.5/5 Stars
Are you planning to read The Black Kids?
Have you had to struggle with racism?
What are your most anticipated reads?
Let me know in the comments below, let's chat!