This week was so tough, y'all. I'm not talking about the usual toughness where I'm complaining about how much I have to read in such a short time. I'm talking about all those readings, plus two essays, and a homework assignment that I forgot until two hours before it was due. I'm also running for my school's campus governor, so add a campaign to that. Did I mention that I'm going to be in my organization's pageant? Yeah, I'm doing way too much right now.
On the other hand, Grownish actually wasn't doing the absolute most on Thursday. It was a pretty real episode and I'm lowkey hurt by how it ended.
So, let's get into this.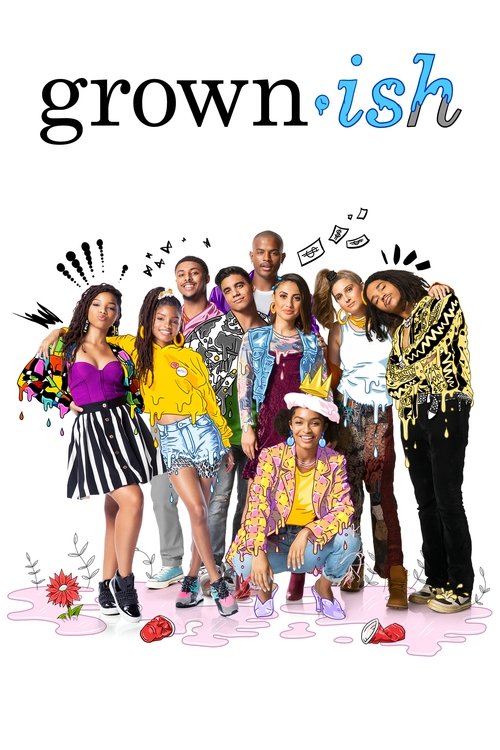 Recap
We start off with Nomi at her doctor's appointment with Luca. The doctor goes over the baby's heartbeat and Nomi's surprised by how fast it is. Luca says the beat is so sick he could definitely hear Young Thug on this beat. The doctor tells them that they're lucky parents and Luca is all for this fake fatherhood. Then she gives Nomi a picture of the baby.
When Nomi get's home, the "MILF to be" is surprised by the gang's baby shower for her. The party takes a turn when Nomi admits that she doesn't know if she's keeping the baby. Luca decides to head out at that point.
Apparently, Nomi's parents think she should give the baby up for adoption. The guys head outside to "smoke cigars" and Vivek doesn't catch his drift. Doug basically drags him out while the girls stay with Nomi to talk it out.
Nomi brings up how stressful it would be for her to be a single mom in college. She would probably take at least five years to graduate. Sky reminds Zoey that she might take that same amount of time after the academic probation. When I tell y'all, I was not ready for that.
The girls go back and forth for a while. Ana really wants Nomi to keep the baby but Zoey doesn't think she should rule out adoption so soon. It's a tough decision to make.
The guys are outside and Vivek is choking down one of the cigars. Doug and Aaron don't want to try it. Rodney, the dude Sky went on a date with a little while back, stops by with some snacks for the baby shower.
Aaron pulls Doug aside to ask if Sky is really dating a white guy. Doug doesn't think she'd do that, especially since she called him out on dating white girls all the way back in Season 1. Aaron points out Rodney's shoelaces as proof that he's white. Doug thinks Sky's just using Rodney to fix her credit.
Zoey asks Nomi if she's considered an open adoption so she can still be in the baby's life. Nomi thinks that would be too painful for her and the baby. The boys come back in and Nomi wants to stop talking about this. Ana just wants to play the dirty diaper game.
Sky is being all cutesy with Rodney and she tells him he can put his jacket in her room. While he's gone for a minute, Aaron congratulates Sky on looking past color lines. Sky doesn't think he's white and she claims that his name is Rod'Nae. Aaron is pretty sure that homeboy is white.
Ana tries to get the dirty diaper game going. It's the one where there's melted chocolate in the diaper and you have to guess which kind it is. Doug doesn't want to play unless he knows whether Nomi's keeping the baby. Nomi hasn't decided yet and then she drops a bomb. Apparently, she hasn't told the father of the baby that she's pregnant.
Nomi doesn't want to tell "Phil from Berkeley" about the baby because they were super drunk and she barely knew him. Ana tells Nomi that she can help her find him. Nomi doesn't want to mess up this guy's life but the girls think she should tell him. Aaron brings up the fact that he was finding kids that weren't his after he found out Nomi was pregnant.
Sky uses this as an opportunity to ask "Rod'Nae" about his dad. Turns out his dad was wrongfully incarcerated when he was younger but the cops held a press conference to publicly apologize. After that, his dad was around a lot more.
Vivek admits that if he was Phil, he'd rather not know. Doug kind of agrees. Doug thinks Nomi should have told Phil when she first found out she was pregnant. Aaron asks for Rod'Nae's opinion only to find out it's actually Rodney.
Rodney understands both sides and he feels like the issue isn't just black or white. Sky disagrees and tells Rodney that he needs to choose black or white. Rodney was so confused. Aaron tells them that this Phil guy has every right to be in the child's life.
Ana agrees with Aaron. She thinks Nomi's choice is depriving her child of a relationship with their father.
Sky goes to the baby board where everyone's baby picture is up. She sees the picture of baby Rodney has his parents' faces covered. She decides to uncover them and finds out his parents are white. As Jazz puts it, "those people might glow in the dark."
Nomi is in her room working on something and Ana comes in to give her a slice of the pregnant belly cake. The popped belly button is fondant. Ana apologizes about overstepping but she does overstep one more time. She found Phil's info in 45 seconds, a new personal best. And when I say found his info, I mean his full name, phone number, Facebook page, graduation year, and his interests.
Doug and Aaron call out Sky for falling for a white boy she thought was black. They head out and Jazz takes out the ice cream Rodney had brought. It's all starting to dawn on Sky that she missed a lot of signs that Rodney was white.
Zoey sits down with Nomi to talk things out a little more. Nomi decides that she's going to go back home to think things out clearly. It's a pretty sad goodbye, but a necessary one.
The last scene is Nomi dealing with an annoying Uber driver. She looks over the pictures from the baby shower and ends up on the picture her doctor gave her of the baby. Then, she starts tearing up and my heart breaks.
Discussion
This was a really tough episode but I love how it was done. The subplot fit in really nicely with this one. I'm just disappointed that Nomi's leaving right when I was starting to like her.
The Rodney subplot was interesting. I kind of get where Sky is coming from, but it still seems weird that she was that surprised. It's not like he had a major tan going or anything. I think there's a possibility that he's adopted though because his parents in the picture didn't look much like him.
How did you feel about this week's episode?
What do you think Nomi will do?
Is Nomi gone for the rest of the season?
Will Vivek ever get that girlfriend?
How do you think Zoey's going to handle this?
Do you think Sky and Rodney will stay together?
What do you think will happen next?
Let me know in the comments below, let's chat!