These episodes just keep hittin different. I'm not gonna say these episodes have been amazing, but this season has started way better than Season 2.
Recap
The episode started off with a situation that many people are familiar with: avoiding your ex in college. Despite the school being 299-acres, Zoey is seeing Luca everywhere. Literally, everywhere.
Zoey starts to wonder if she can be friends with her ex.
After a long day of classes, Zoey comes home and finds Luca hanging out with Nomi in their living room. She really can't seem to avoid this dude. Apparently he made a vegan bone broth out of coral for Nomi. Zoey and Luca avoid eye contact awkwardly and Nomi asks if they should all hang out. Luca decides to head out.
Nomi asks Zoey to stop being weird and just be friends with Luca for the her baby's sake. Zoey says no to Nomi's unborn baby because she doesn't even know it yet.
The crew is hanging out at Titanium and Zoey spots Luca by himself. She asks everyone if she should invite him over, to which she gets mixed answers. Ana's all for it since Luca was part of the friend group before. Aaron makes it clear that Luca was never part of his friend group. Jazz says he shouldn't violate the 200 by 200 rule but Sky prefers a five by five. This whole interaction was golden.
This leads to a discussion on exes. Jazz makes it clear that exes automatically become enemies. Doug says that if they broke up, one of them would have to move and after a look from Jazz, he adds that he'd be the one to do that. Ana tells the crew that she's cool all of her exes, even Aaron. Aaron says that "technically" they were never together. Ana claps back with a "technically you cry after sex" and when I tell y'all that line SENT ME. I couldn't contain myself.
We finally get the tea on what happened between Sky and Junior. Apparently she blocked him because he couldn't let her go. He tried to make #skunior a thing but she wasn't letting that happen. Twitter was deeply impacted by that one.
Vivek wishes he had some heartbreak and drama in his life like all of them. I feel like the writers were messing with us at that point. The man is a whole drug dealer but they pretended he didn't exist last season. Let me stop.
Zoey decides to talk to Luca and try out this whole being his friend thing. It's an awkward conversation for everyone involved.
Charlie, I mean Professor Telphy. Wait, no. Dean of Students Charlie Telphy is teaching a new class this semester. It's an African-American public-speaking class that's end goal is to help students "steal some unidentified white person's shine." He uses Kanye West as an example.
All the white people step out and Charlie goes outside to call his lawyer. While he's out, Zoey's classmate (Ryan Destiny's character) starts asking her about what's happening. Her name's Jillian and she's an exchange student from Spelman. She was actually at the HBCU-inspired party Zoey and the girls (+ Vivek) threw.
Zoey's reading something when Luca comes up to her to clear things up about the night before. He was "super blazed" from an "indica contact-lens solution" that he'd just started using. Have I told y'all how over Luca I am? He just doesn't do it for me.
Fast forward two weeks later, Zoey and Luca are in the friend zone and hanging out with Nomi together. Luca switches the coral for sea moss in the "bone" broth to suck out the toxins. Zoey plans on getting some hot dogs after work to replenish the toxins and she'll be getting one for Nomi, too. Luca asks if she can bring one for him so he can nibble on the casings. As Luca likes to put it "vegan's a mindset."
Vivek is at the house, playing video games when he sees some dude in the backyard. He immediately gets the bat and goes out to confront the guy. Turns out he didn't know any better since that's where he came in for the party a few weeks back. He's there to pick up Sky.
Sky comes down before the guy's can talk much more and she's wearing her fur y'all. All my Season Two people know what that means!
They head out and Jazz comes downstairs. Vivek is looking sad and he tells Jazz about what's bothering him. He has nothing going on in his dating life, but everyone else does. Jazz decides to school him on his dating profiles to help him land something.
Zoey's hanging out with Luca in his studio and she loves his new designs. Zoey loves them so much that she suggested a few of Luca's pieces for Joey Bada$$'s Paper Magazine cover photo shoot. Joey's all for it, but Luca's pissed.
He thinks Zoey's making him look like a… I'm not gonna say it but it's really a matter of pride here and Luca's pride is real bruised. He also thinks Zoey played him with Joey? When and how?
Doug comes in for reinforcements in Vivek's schooling. He doesn't think any of Vivek's pictures should include his nipples and Vivek doesn't agree. Before they can finish the discussion, Vivek gets a match on one of his profiles. Jazz verifies that she's a real girl. Doug tries guiding Vivek through his first text. His opening line is "I have TSA pre-check" even though he doesn't.
He actually used that line on Jazz and now she's pissed. She wasn't expecting to need to use two bins for security. Vivek doesn't want to start this relationship off on a lie so he texts her "We did it" as in they matched. She says they "nailed it" and Doug hypes him up. I guess Vivek's getting a date after all.
Luca stops by Zoey's place to drop off some of his designs. I guess he realized he was in the wrong. He says he promised not to get in his own way this year with his career. I'm glad he swallowed his pride, but I'm not happy about what happened next.
Zoey and Luca have a heated discussion for a minute and Zoey tells him they shouldn't have tried to be friends in the first place. Luca says he wasn't trying to be her friend, he was in love with her. Zoey tells him she was in love with him, too.
Luca kisses her and I legit thought he was gonna leave. Then they started making out something serious. He lifted Zoey onto the kitchen counter, the toaster got knocked into the sink and they just kept going. I'm really not about it this season. They were terrible together and this doesn't look like it's gonna end well.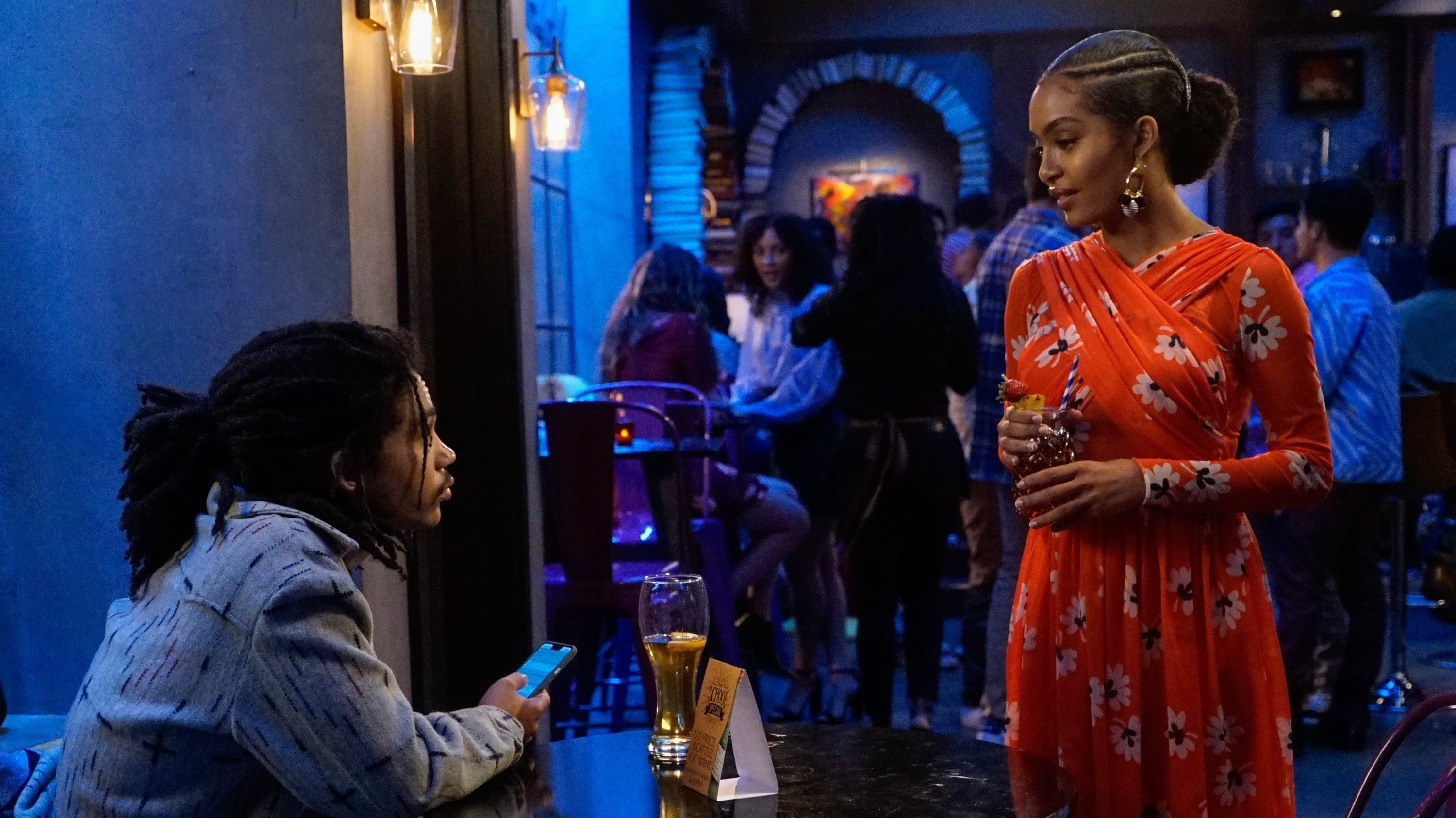 The last scene is Doug showing up with a surprise for Jazz. He got TSA-pre check. Before we can get our hopes real high, Jazz notices that he didn't get Global Entry. I love those two together, I really do.
Discussion
I was loving this episode up until Zoey and Luca hooking up. They weren't good together last season and I don't want this to be a long term thing in Season 3. It's just unnecessary.
Vivek is finally getting screen time! I'm so happy to see him getting actual plots this season instead of just having one or two lines. It's nice to see our boy doing his thing and possibly getting a girl. I hope they have an episode on how he balances selling drugs, being an engineering major, and possibly having a relationship. That would be a cool concept to explore.
The clap backs were on point this week. Don't get me wrong, I love Jazz and Sky, but I enjoyed hearing some other people in the crew clapping back, too. I wonder what it's gonna be like for Ana and Aaron this season with all this tension.
What did you think of this week's episode?
Is Luca's coral "bone" broth even legal?
How do you feel about Zoey and Luca hooking up?
What do you think's gonna happen with Jillian?
How are you feeling about Vivek's storyline?
Let me know in the comments below, let's chat!