Overall, I actually enjoyed the experience of rewatching one of my childhood favorites. The first few episodes were tough to push through, but after that it was smooth sailing. I had fun getting to watch some of my favorite characters in their wacky adventures.
But like I said before, I've got some qualms with Victorious.
My Qualms
Why aren't there any regular black women?
The only one we had was Andre's grandma and she's missing more than a few screws. Even the random black girls we got throughout the series were just Andre's girlfriends for an episode. Some were mindless, others were jerks, and none of them had personalities outside of being pretty or rich.
This has been an issue with a lot of TV shows for years, but it was even more apparent to me now. I'm thankful that TV shows are taking a turn toward all-around representation now, but I wish I could've had more of that growing up.
Side note: I literally looked up "victorious black girl" for an image to put here and this was the first picture: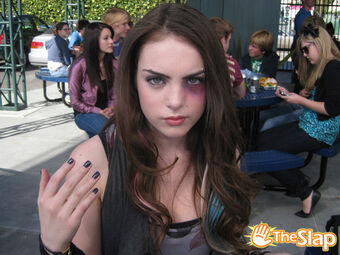 Cat was infantilized and oversexualized all the time.
It was pretty weird a lot of the time. There have been a lot about Dan Schneider going around online and it doesn't sound great. Especially if you watch some of the videos that were up on The Slap. Even in the show, there were so many times where she was overtly sexualized but the audience is supposed to just goes with it because Cat (Ariana Grande's character) is supposed to be a fun, well meaning character.
Why were we okay with Tori kissing Beck in the first episode?
That's so jacked up on so many levels. Not only is it messed up that she suggested they kiss while his girlfriend was watching, it's even more messed up that he actually kissed her. I get that you're an actor, dude, but come on.
The girls were wearing heels to school like that's a normal thing.
I feel like this one can stand on its own. Who thought this would be okay? What teen wears heels every single day to school? What teen wears heels to school at all?
The laugh track "woos" were so annoying and often unwarranted.
Nothing important would be happening and there would just be a woo. It was unnecessary and at times confusing. The laugh track itself was also annoying.
Why was this show about Tori when everyone else was way more talented and interesting?
I'm sure you've seen the videos on Youtube and other articles online by now. Tori was not that interesting. The only thing she could really do was sing and she wasn't even the best singer on the show. How did Jade and Cat not get all the lead roles?
Tori's massive house. Just, how?!
Tori and Trina seem to be the only ones with parents in this entire show so can we just talk about their home life. I'm so confused. What does their mom do for work? How can they afford that huge house that's literally in LA and down the road from their school? It can't just be from her dad's police officer job. What are they really doing?
Why didn't Tori and Andre end up together?
It still bothers me and I finished re-watching the series two weeks ago. It bothers me even more now than it did back then. Tori and Andre have more chemistry in the first episode than Beck and Jade had for the first two seasons.
What was the point of Jade and Beck getting back together?
They literally got together like four or five episodes after they broke up. Their breakup was literally pointless if they were just going to get back together after a couple weeks. I feel like it would have been better for them to just stay broken up so we could see more of Beck on his own.
Those are my main issues with Victorious. If you would like to hear more about my experience re-watching Victorious, be sure to drop your questions below!
Have you watched Victorious?
What shows have you re-watched?
How was your week?
Let me know in the comments below, let's chat!