Season Two has been one wild ride, I just can't believe we have to wait until Winter 2020. Now that I have a Hulu account, I think I might go back and do these recaps for Season One. Let me know if I should in the comments.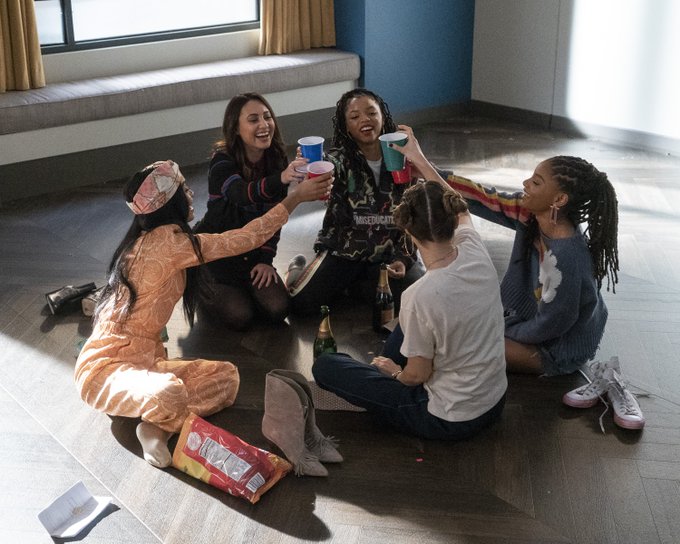 Recap
The episode starts with where we left off last week, with Zoey waking up from the nightmare. This time, we don't see those teeth falling out though.
Zoey decides to talk to Luca about the job she got from Joey Bada$$, his idol. At first Luca's just like "cool" and he starts to lay back down. Then it seems to register for him and he asks her to give him the play by play of how this is happening.
Zoey tries explaining it again and Luca basically tells Zoey she stole his opportunity. He tells her that she doesn't care about anything but herself, despite the fact that she was literally trying to talk to Joey for Luca.
Zoey breaks the news about Joey saying he wasn't going to give the job to Luca anyway. Then she brings up the vegan slider convo and he tells her it's some double talking snake ish.
Luca starts getting dressed and is ready to full on walk out. Zoey asks if he's really going to leave with no pants on and I kid you not, he tells her "I can't find them, probably cause you stole those, too."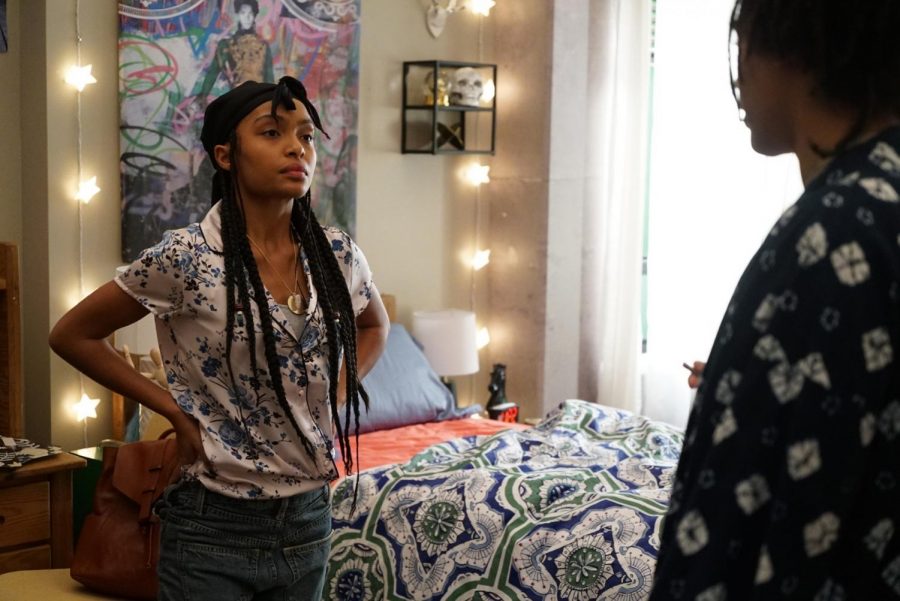 I've never been more over Luca than in that very moment. He was being so petty and I was not here for it.
She finds his pants and tells him she didn't steal anything. Then he tells her thanks for having his back all sarcastic as he leaves.
Zoey says that she thought nightmares were supposed to end when you opened your eyes and that line really hit different the second time I watched it. Then the theme song comes all. All this heat happened in the first three minutes, y'all.
Zoey's packing up the apartment with Ana and Nomi and she asks the girls if she should invite Luca over to the pop-up shop's closing night. They haven't spoken at all in the week following the argument, not even texts. Zoey asks the girls if Luca and her can be broken up without Zoey knowing it.
The girls say "You would know" at the same time and they get a little too excited about it. Then they say it again, clapping like the twins. It really didn't feel the same coming from those two to me.
Zoey decides to be the bigger person and invite Luca. The girls clap again and then tell Zoey not to tell the twins about the clapping.
Sky just got her cast off and she's celebrating with Jazz in the doctor's office. Sky is so ready to get back on the track field for the NCAA finals. She's showing off her thotiana skills to the doctor when he brings up some not so great news.
The show really switched over to the next scene, had me biting my nails waiting to here what the doc had to say.
Zoey finds Nomi and Ana at the pop-up shop and they are super proud of Zoey's work. It honestly came together really well.
Now that Nomi's not stressing over Professor Hewson, she applied to an internship and she's waiting on the call back. As she steps away, Zoey spots Aaron but tries to play it off for Ana.
Ana says it's cool, she had a real moment with Aaron and Ana realized she just liked the idea of being in love, but she wasn't actually in love with him. Then Ana drops a bomb, saying "we all know who he's really in love with." Then sis says nothing. The sheer disrespect.
One of the girls at the pop-up needs Zoey's help at that exact moment, so she can't even talk to Ana about that comment.
Vivek and Doug see a jacket at the pop-up that they both like. They end up splitting the cost and scheduling their days with it.
Turns out the call Nomi got was from a telemarketer selling Harlem Globetrotter tickets, which she bought. Zoey asks the girls if they heard if Luca was coming. He didn't even respond to her text. As she's giving a speech about how she doesn't even need Luca since she's a strong, independent black woman, she sees Luca and gets all gushy.
Zoey walks over to Luca and he tells her that he couldn't miss her big night. She apologizes for the other night and Luca asks her to show him around the shop.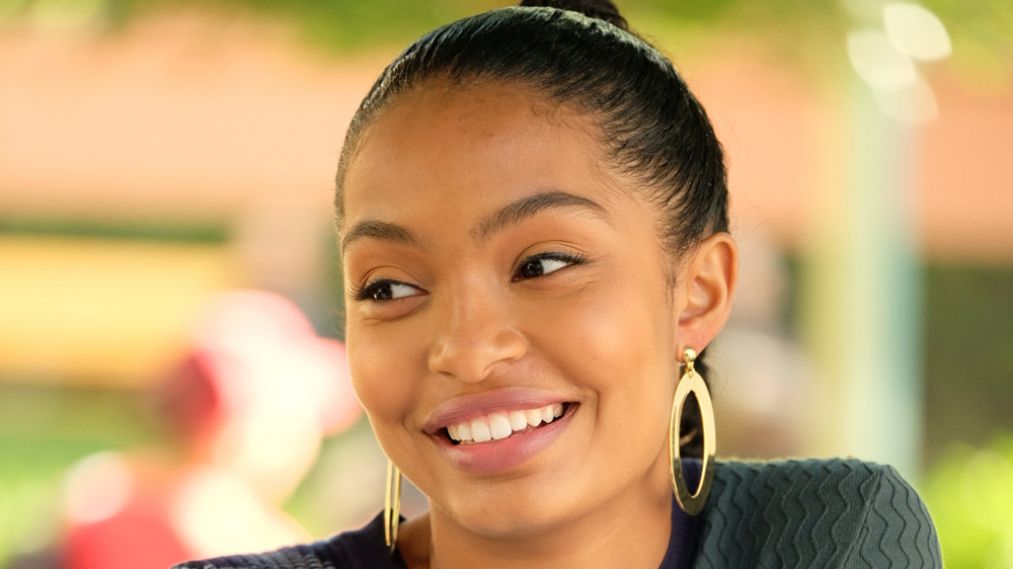 Now to the twins. So, it turns out the injury was more than a sprain. Sky has a hairline fracture, which means she can't compete in the NCAA finals. Sky will have to stay home and do rehab over the summer so they can run together in the fall. This would also be the first time Jazz is ever competing without Sky.
Jazz doesn't know if she can do this competition without Sky and Sky gives her a great pep talk. It was such a a touching moment. I love the bond that Jazz and Sky have.
Back to the Zuca drama. Luca tells Zoey that he didn't mean what he said the other night. Then, when things seem to be going good, Luca basically tells Zoey that she only got the job because she's pretty. He tells her that Joey didn't know she could do all this before he hired her. This part of the episode got me so heated.
Zoey walks away and Luca tells her she's tripping, then Aaron comes up out of nowhere. He asks if everything is okay and Luca says they're good but Zoey disagrees. Aaron tries to tell Luca that tonight isn't the night for all of this but Luca says this is between him and his girl.
Zoey and Luca take it outside. Luca asks what's up and she calls him out. Zoey points out the fact that Luca has no issue giving her pep talks when he's up and she's down, but the minutes the tables turn, he isn't having it.
In that moment, Zoey realizes that she can't do this anymore. Luca asks what that means and she tells him that they're done. I could feel the weight lifted off of her shoulders.
Zoey's packing up her room now that the semester is over and Ana comes in to talk to her. She asks if Zoey's okay and Nomi comes in too. She tells her that she knows that breakups will hurt but she'll grow from this.
Zoey doesn't have to worry about running into Luca this summer because she took a job at the flagship pop-up in London. Zoey, Nomi, Ana, and the twins are living out their last day the same way they came in, with chips and champagne.
Nomi steps away to take a call and it's from the school board. Apparently there have been some allegations made against Professor Hewson.
Nomi tells the girls it was just another telemarketer call. The girls take some last selfies to commemorate their sophomore year at Cal U. Zoey says one last goodbye to Prince Mustafa, then heads out for her plane ride to London.
Luca goes to Jazz and Doug to ask where Zoey is. He's been blowing up her phone but hasn't gotten any answers back. Jazz goes into an explanation of how she can't tell Luca where Zoey is because of Girl Code, but Doug spills the beans. He tells Luca that Zoey's at the airport, on her way to her new job in London.
Aaron takes Zoey to the airport to her private jet ride. The company's paying for the flight. They spend a moment looking at each other and Zoey asks Aaron why he's always here for her, even when she doesn't ask.
He doesn't really answer the question. As he's unloading her bags from the trunk, Zoey points out that Aaron bought one of the bags that was on display at the pop-up. Aaron tells Zoey that he just wanted to support her.
Zoey kisses Aaron for a good minute before heading into the airport. They look back at each other but don't say anything else. Aaron gets back into his car and starts thinking about everything.
Luca gets to the airport after all this has happened. The lady at the front tells him he can't come in without a ticket. Zoey's already on the plane, waiting for takeoff and Luca's staring off through the chain link fence.
We can now presume that Zoey's going off to start her Hot Girl Summer.
The last scene is Doug and Vivek debating their jacket schedule. While they're talking it over, Dean Telphy comes in wearing the same jacket. Doug decides he doesn't want any part of this anymore.
Discussion
There was a lot going on this episode. It's too bad that Sky can't compete in the NCAA finals, but to see the way the twins have grown into separate people this season has been so sweet. Jazz and Sky really do have separate personalities.
This season has been playing Vivek. I really wish we got more depth from his character. We never really talk about the fact that his parents are immigrants and he's balancing his drug dealing with being a whole engineering major. There's so much that can be done there, but hasn't yet.
It was great when Ana talked about not being in love with Aaron but liking the idea of love. It's something a lot of people can relate to for sure. I've definitely been there before.
Now onto the juicy details. This Zoey/Luca/Aaron situation was something. The writers really played us with this one. I'm honestly so happy that Zoey finally realized Luca isn't right for her, but that doesn't mean she should just jump onto Aaron.
Yes, I know I've always been Team Aaron, but lately I've switched over to Team Zoey. She needs some time to focus on herself and develop into her own person before worrying about some relationship. It just wouldn't be good for her to jump into something so soon after this heartbreak.
The promo for Season 3 was real cute. I'm excited to see what junior year holds, but I'm not at all excited for that wait. Winter 2020 sounds so far away. And that's just because it is.
Should I make recaps for Season 1?
What did you think of Season 2?
What will you be watching while you wait for Season 3?
How did you feel about Doug and Vivek's jacket?
What did you think about Ana's comment?
Who do you think reported Professor Hewson?
What do you think will happen with Zoey?
How do you feel about the breakup?
What are your Season Three predictions?
Let me know in the comments, let's chat!