It's that time of the week again, time for our full recap.
Recap
Zoey's beginning monologue starts off with clips of Beyoncé, the 2017 Women's March and how women everywhere are fighting the good fight for equal rights. Though, that fight isn't always won when it comes to relationships.
Professor Hewson's on her way to campus and Nomi offers to come along, but the professor is carpooling and doesn't want her colleagues knowing about her 19-year-old girlfriend. Nomi makes her way back to the apartment and Zoey is making some tofu eggs for Luca.
Nomi takes a hard pass on the vegan eggs and Ana walks out of her room practically glowing. She also passes on the eggs. Luca calls the girls out for hating.
Aaron walks out of Ana's room too, as if we forgot what happened. He leaves and when the girls give her a look, Ana says everything's cool.
Zoey not so sneakily dumps the tofu eggs in the sink. Luca saw you sis.
Ana tells everyone that she's just enjoying herself and this thing with Aaron isn't serious. Luca says some weird stuff about not having last names in 15 years anyway. Zoey tells Ana to make sure this is something that she really wants. Then Nomi calls Zoey out for being so traditional in her relationship with Luca.
Zoey goes to her job at the bookstore where she rings up a Titan green tank top for a girl with a total winter complexion. Zoey felt mad salty that sis wasn't taking her advice. I mean, she's not wrong.
Then of all people, Professor Hewson comes up to the counter, buying a cookbook from Ayesha Curry. Zoey goes into her total awkward babble. Professor Hewson realizes that Zoey knows about Nomi. Then, Zoey gives her the book for free. She basically made her steal.
Zoey tells Nomi about what happened and sis is pissed! She blames Zoey for ruining everything and Zoey calls out the fact that Professor Hewson is the one making this a secret in the first place.
Nomi reads Zoey like a book and calls out her own relationship problems. She lists off all the concessions Zoey makes on behalf of Luca. And I wasn't even mad because it was all facts.
There's a big tailgate going on and people are hanging out. Ana and Aaron are at the drink table and she gives him her order before meeting up with the twins.
Jazz and Sky are impressed by Ana's French-like relationship. Sky tells her she's surprised, considering how uptight and controlling Ana is. Sky really does have no filter. Turns out, the girls are detoxing again and Sky's cranky from the lack of Cheetos and tequila.
Ana says she doesn't care what anyone thinks since she's just enjoying herself. Jazz tells her she wouldn't be able to handle a situationship with Doug because she loves too hard. Sky tells Ana that Jazz loves so hard, their mom won't even give Jazz her email address. Jokes on her, Jazz already hacked it. Come at her, Brenda.
Jazz points out that Aaron's doing a whole pick and roll on Chastity Decas. Ana says she's good, but her face says something different. She ends up chugging down some vodka and the twins ask if she's only doing all that because of Aaron.
The pick and rolls have turned to body rolls and the twins think he's probably going to end up going home with her tonight. Ana works her magic, whispers in Aaron's ear, and suddenly he remembers the toaster he left in the oven. He leaves the tailgate with Ana and the twins are impressed.
Zoey makes her first sale on eBay and she wants to go out for margarita's. Luca tells her he'll make some homemade margaritas with some weird behind flavors. That's not what Zoey wants, though. Luca says that with Mars in retrograde and all the bodies over at Titanium he doesn't want to run the risk of running into a Sagittarius. As a Sag, I don't want to run the risk of running into Luca, but that's on some other ish.
Luca orders some imitation crab sushi and makes the margaritas. They're watching some documentary with rams sharpening their horns and he's in his cuddling kimono. Zoey's not feeling any of it and she ends up leaving.
Nomi tries to patch things up by going over to Professor Hewson's apartment. She tells her that Zoey's stupid but she won't tell anyone. Nomi basically trashes her whole squad just to try to get back on the professor's good side.
Professor Hewson says she doesn't trust Zoey or Nomi and that hits Nomi hard. Nomi calls her out for putting her in this situation in the first place. Professor Hewson starts doing that weird controlling thing again and Nomi is done with it. Nomi breaks things off and storms out.
Ana brings Aaron over and she's pretty drunk so he helps her get in bed. Drunk Ana ends up spewing out some facts, though. She tells him that he doesn't want a relationship with her but he wanted one with Zoey. She falls asleep and we see the lampshade with their initials that Aaron wrote a little while back.
Nomi finds Zoey hanging out at Titanium alone with chips, salsa, and a margarita. They have a heart to heart and Zoey tells her that she's learning to do the things she wants to do, even if it means doing them alone. Nomi admits that things weren't so great with Paige (I finally said her name) and she broke things off. Zoey begrudgingly gives her margarita to Nomi, just this once.
Ana wakes up to a text from Aaron, checking if she's okay. She starts a text then hits that backspace, telling him she needs space. She blocks his number and I'm honestly so proud of her for finally letting him go. I bet it's definitely going to take a toll on the squad.
The last scene is Luca cracking the eggs he's already named and putting them on some toast for Zoey. It's honestly sweet that he's finally compromising for her.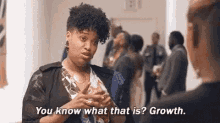 Discussion
I'm basically going to say the same things I said for Wednesday night's mini-recap.
It's about time Nomi left Professor Hewson. That lady was creepy, manipulative, and the exact opposite of a good partner. She's a predator to say the least. I definitely think the squad would have reacted differently if Professor Hewson was a guy.
Zoey and Luca may not last much longer, at this point. It's something I've been saying since Day 1 of Season 2. I don't think they're good together or really vibe right with each other. Just because Luca isn't right for her, doesn't mean she should go back to Aaron, though.
Aaron is a whole mess and y'all better stop saying they're like Dwayne and Whitley from A Different World. Aaron is no Dwayne Wayne.
When Jazz talked about how her and Doug couldn't do a situationship, I was pretty confused. I thought they had no label. Are they dating again?
Also, I missed Doug and Vivek tonight but I'm sure they're off bonding somewhere after last week's experience.
How did you feel about this week's episode?
Do you think Aaron still has feelings for Zoey?
How do you feel about Mars being in retrograde? (I honestly don't know what that means)
Do you think Luca and Zoey will last?
How do you think this will affect the group dynamics?
Who's your favorite on the show?
What do you think will happen next week?
Let me know in the comments, let's chat!