Soooo, this episode was… Hmm, I honestly don't have much to say. How rare. Let's get into this recap.
Recap
This episode starts off with Zoey monologuing on relationships and how y'all need to be on the same page. Even though Doug and Jazz don't have a label, they still know what's up with each other.
Ana and Aaron, on the other hand, are in a whole situationship. Ana is giving me "changed my Facebook status to in a relationship" vibes, while Aaron is dodging her hand like it's infected. Talk about mixed signals.
Ana asks Aaron if they want to go back to his place, but he wants to hang out with the boys for the night. Ana tries to play it off like she's not hurt, but Aaron's not making the situation any better. Zoey doesn't want to get involved because of all the friend group drama lately.
Jazz asks Doug if he wants anything from the diner the girls are heading to. He says he's good but he'd definitely be in the mood for dessert later. Vivek misinterprets the code and talks about how it's his cheat day, so he'd be down for dessert, too. Then he figures out what they meant and that's a real awkward moment.
Jazz gives Doug a kiss goodbye and heads out. Ana tries to do the same with Aaron but buddy literally turns his cheek like she's his grandma and Doug calls him out on it.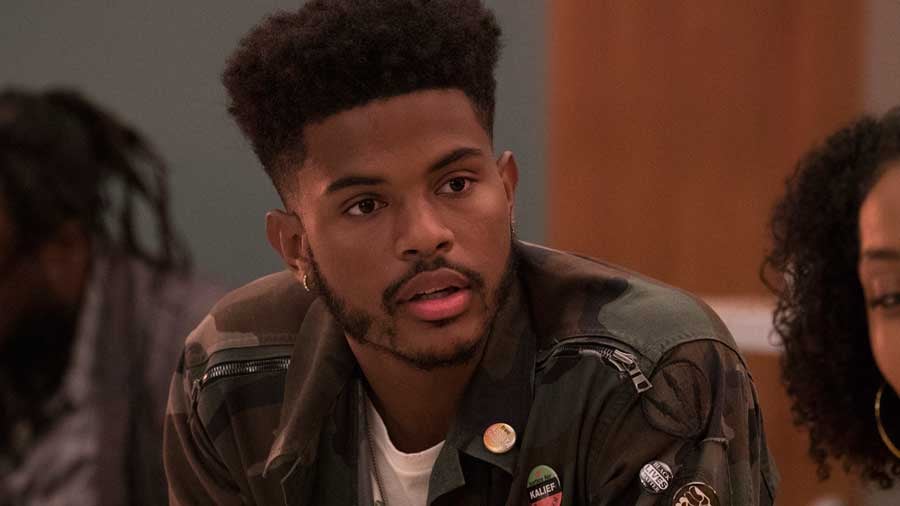 Ana talks to Nomi, Jazz, and Sky about the Aaron situation. They tell her she shouldn't take the hand-holding thing the wrong way because black men just don't trust people like that.
Jazz talks about how Doug holds her hand all the time, just never in public. Nomi says it's an all around man thing since she's never had an issue holding hands with women. Sky tells Ana that holding hands is basically "wifey" status.
Then, the girls ask Ana if she and Aaron have talked about being exclusive yet. Ana basically assumed they were already exclusive, all things considering, but never actually talked to Aaron about it. Nomi tells her that she can't assume anything with relationships.
Even the boys, think something's up. They claim Aaron's in a relationship because they're always together, hook up every night, and he hasn't been with anyone else since they started doing their thing. Basically, all things that add up to a relationship.
Aaron claims that he isn't really in a relationship which doesn't add up at all. Then he sees Rochelle, an old fling, and things get spicy.
Zoey and Luca are kicking it at his place. Luca's so high that he starts talking deep about the cute bear documentary they're watching. He's talking about battling adversity and the meaning of life. Zoey decides she wants to be on a "Luca Jae Hall" level of high. Luca says that he'll be her shaman on this journey.
Ana starts talking about men's fear of vulnerability. Sky remembers that other people have feelings. Jazz tells her she needs to confront Aaron about it. Sky tells Ana to pray on it. Ana leaves to talk to Aaron.
Aaron has a few drinks with Rochelle and she tells him she hasn't been seeing him around campus much lately. When she mentions how she thought he was "boo'd up" Aaron denies it, saying he's super solo. Then, she asks what he's doing tonight and he tells her he'll be kicking it with her.
Aaron's already gone by the time Ana gets back to the bar to find him. The boys end up lying for him, telling Ana he got the "bubble guts" and went back to his place.
Nomi goes over to her professor's place, but it turns out she's having a get together with some of her coworkers. She doesn't want them getting suspicious so she invites Nomi in and makes up something about how she promised her a documentary.
Luca makes oolong tea infused with blueberry hornet for Zoey and she sneaks a second cup because she's not feeling anything. At first things are good and she's seeing things from the perspective of the swans in the video they're watching.
Zoey talks about how one swan dies and the other just keeps on living. Then she starts talking about whether her and Luca will last. I'm sure it's a question we've all had this season. Luca tells her to ride the tea and not let the tea ride her. She ends up leaving to go sit on her bathroom tile.
Ana goes over to Aaron's place to talk to him but she's met with an empty room. Turns out Aaron is in Rochelle's room. He lets the guilt get to him and leaves before things get too serious.
As soon as the guests leave, Nomi goes back to her professor's place. Apparently, she was hiding behind a car, waiting. Her professor tells Nomi that lying to her coworkers is pretty hot.
Ana ends up talking to Zoey, of all people, about the Aaron situation. Ana goes on and on about how she doesn't know what Aaron wants. Zoey puts things in perspective by asking Ana what she wants.
Ana says that she wants to be with Aaron so Zoey tells her to tell him that.
Zoey's newfound open mind helps her apologize to Nomi about the drama from last week. She even makes her breakfast. It's wild how mature she's becoming, even though I'm still not digging Nomi hooking up with a professor.
Zoey watches The Price is Right with Luca and decides to stop stressing over things she can't control.
Aaron and Ana meet up and she tells him how she's feeling. Aaron's playing his same old games, saying how he doesn't think he's ready for a real relationship.
The last scene is Jazz and Doug holding hands in broad daylight. I really want them to be back together officially, this label-less mess isn't for me.
Discussion
After all that sneaking around, all the unnecessary drama, even confronting Zoey about it, Aaron still wants to pull this card. Why is he so annoying? I used to love Aaron back when we were first introduced to his character on Blackish, then he wants to pull the foolishness. Even when him and Zoey were whatever they were, he was still on this mess and I'm not here for it. If you ask me, Aaron is cancelled.
I don't think Zoey was wrong about Nomi and her professor hooking up being a bad thing. I honestly just feel like the way she delivered it was the problem. I'm still not with this "relationship." After Nomi graduates, it's whatever, but as long as she's a student this is just a bad idea.
Those family texts they had towards the end of the episode had me sent. Grandma Ruby is hilarious.
What did you think of this week's episode?
How do you feel about Aaron's foolishness?
Do you think there's going to be a change in group dynamics?
Should Zoey have apologized to Nomi?
What do you think is gonna happen next week?
Let me know in the comments, let's chat!