Grownish comes back out TONIGHT! This is going to be a complete recap of Episode 1 through 11 of Season Two. I've also included links to my individual recaps of the episodes, in case you want something more in-depth. I wanted to get this out as soon as possible so y'all could see it before the new episode. Make sure to check out my twitter in the sidebar, I'll be live tweeting the episode.
Let's get started!
The Season Premiere was a two-parter. Season Two started out with Zoey recapping the mishaps of her first year of college and how her sophomore year would be totally different. She couldn't wait for her man, Luca, to get back from Paris. The apartment she rented with Ana and Nomi was totally trashed and things weren't looking up after her chat with Dean Charlie Telphy.
The girls end up throwing a clean-up party and people come to help out and have a good time. Zoey finds out from Aaron that Luca came back without hitting her up. She goes over to Luca's place so they can talk and he ends up falling asleep while they're watching a movie.
At the end of the day, Zoey has her girls to stand by her, even if her man is acting a fool.
The second episode is all about #relationshipgoals and why Zoey and Luca are missing the mark. I'm personally not a big fan of their relationship to begin with and this episode did nothing to change that. Zoey actually went to Aaron of all people for advice on the situation.
Zoey and Luca were cute or whatever toward the end, but if you really want to know what happened, just read the recap. It just didn't interest me.
Episode 3 is about all the rules of the squad. Zoey feels like Doug may have broken one of his and Jazz's relationship rules after she sees him at the Hawkins kickback. So, she does what any self-respecting Gen Z would and she starts a group chat with Ana and Nomi about it.
That goes downhill real quick. Zoey's phone dies and Ana sends a text to the wrong group chat. Jazz finds out about all of this after Nomi sends her the screenshots. That's a whole mess of drama. Jazz gets super pissed at Zoey and that drama lasts for a few episodes even though she seems to have no issue with Doug. That still makes no sense to me, but okay.
Everyone's shutting Zoey out because of the drama and she ends up have a panic attack. Luca visits her at the clinic and he gives her some pretty good advice, I guess.
Zoey tries patching everything up with a text to the main group chat. Every seems okay about it, except Jazz. Jazz really just left the conversation. Can someone say petty?
Now onto Episode 4. At the start of the episode, Zoey is stressing out about her design assignment. She doesn't know how she'll get it done in time. She takes a break to hang with the crew.
There's a discussion about what it means to be a genius after a mystery artist goes viral. The album is set to drop that night and everyone is trying to get their bets in for who it could be. While the girls and Luca are hanging out at the apartment, the tension between Jazz and Zoey grows. Sis spit out her gum in Zoey's drink, the sheer disrespect! And Nomi calls Luca a genus and Zoey takes that to heart.
Jazz spewed some serious facts about how Zoey's taking people's opinions so seriously. Zoey realizes the stress of her design class just isn't worth it, so she ends up dropping it. I still want to know the logistics of that. It's been at least three weeks since the school term started, based on what Zoey said about the Doug situation happening two weeks prior. If she's really dropped it during add/drop, then how long is their add/drop period. Cal U is different.
So, Episode 5 was wild. Nomi was hooking up with a ton of girls at the apartment she, Zoey, and Ana share. Ana and Zoey talked to her about it and she said she'd chill.
Nomi also said she only hooks up with straight girls and that rubbed Ana the wrong way. Ana brought it up in their Gender Studies class and the professor was feeling like it was TMI. But, she did confirm that a woman can be a misogynist too, which is what Ana called Nomi out on.
Zoey tries talking to Nomi at the bar about it, but she just wants to get drunk and forget about the situation. Nomi ends up finding a girl to chat it up with.
At the other end of the bar, the squad is making plans for the night. They all agree to try something they've never done before and the night ends with Aaron giving Ana a ride home on his electric scooter. They kiss and that whole things starts.
Nomi brings the girl to their apartment and Zoey talks to her about it. Nomi ends up coming clean to the girl about how she wanted it to just be a hookup. Home girl is cool with it but when she says that "it's not like I'm gonna be bringing you home to my parents" Nomi starts feeling weird and decides to send home girl home.
Nomi ends up talking to the Gender Studies professor about it and gets to the root of the problem. Turns out she doesn't want commitment because she hasn't even come out to her parents yet.
Ana apologizes to Zoey and Nomi about making such a big deal about everything and all is well.
Episode 6 is where Zoey sees the consequences of her decisions. Michelle Obama is coming to visit the design class that she just dropped. Luca needs some help with his design and enlists Zoey.
Zoey begs Dean Telphy for a spot back in, but he tells her that the add/drop period is already over. So, she decides to take Ana and Nomi's advice and support her man. Luca ends up literally throwing Zoey's idea into the trash. Luca starts catching a major attitude and Zoey's not feeling it. He says he needs some alone time so she leaves.
Sky and Jazz make some comments about the newest basketball star, Chastity Decas but they don't make any comments about Cash's poster. Aaron calls them out for the double standard so they agree to go to the women's basketball game with the boys.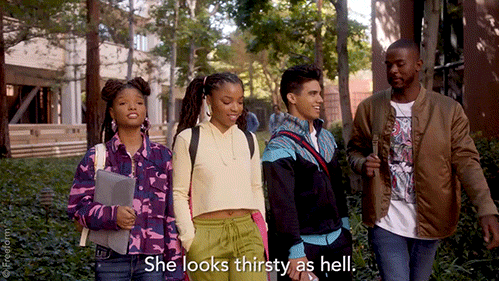 Vivek discovers the real reason Chastity has the banner. Turns out it's all part of her image. She has a huge social media presence and a ton of sponsorships. Aaron tells the girls that they should try it out to get more people at their track meets.
There's also this sappy moment with Zoey and Luca later on. He's freaking out and he texts her for help. She shows up to him smoking weed and saying he quits. She gives him some much needed words of encouragement and they get to working on it. Zoey adds the finishing touches to his design with some fly sneakers and some other accessories. They cute or whatever, but I still don't think they're all that as a couple.
Long story short, Michelle Obama loved the design. The twins decide to switch up their image and while all of that was going on, Ana and Aaron were getting super flirtatious in their texts. I'm still not feeling them together, y'all. Also, Charlie was planning on trying to get with Mrs. Obama but she already left.
Now let's talk about Episode 7. Cash is back and not in a good way. He hooked up with a girl at a party, but they definitely weren't sober when it happened. Cal U rolls out a new Enthusiastic Sober Consent policy and it's a total controversy.
The squad has a discussion about it. Zoey and Ana are the biggest supporters of the policy but they don't even plan on not drinking before hooking up, so…
Everyone talks about their own party experiences and how alcohol helps and sometimes hurts their game. This was without a doubt one of my favorite episodes of the season. It was a pretty good discussion and brought up some great points.
Cash ends up leaving Cal U to go play basketball in Europe. Luca feels like the only reason Zoey is really for this policy is because of Cash and that argument happens. Turns out, Luca didn't get the full story of the night. He was stressing about Zoey and Cash instead of just trusting her.
But don't worry, they patch things up in the end.
In Episode 8, Sky and Jazz start on their rebranding project with Zoey's help. Things start off pretty rocky when Zoey has a vintage look in mind and the twins think that means wearing dead people's clothes. They want something along the lines of Chastity's page and Zoey unwillingly obliges. They're her first customers for her styling business and she needs the publicity.
The pictures end up blowing up and that causes more than a few issues. Creepy dudes are commenting some pretty specific things under the pictures and Doug is pissed. He can't stand the idea of his girl out on the web like that. The girls do get some sponsorship deals, though.
While the squad is out, some dude comes up to the twins and asks for a picture. Doug is not having it but the girls agree and buddy slips is hand down to Jazz's butt. Doug punches the dude straight away and the tension between him and Jazz grows. They end up taking a break to figure things out.
Ana and Aaron leave to do who knows what. Turns out they fell asleep without actually doing anything. They leave, thinking everyone's gone, and run into Luca eating a chicken wing. The funny thing is that he's a "vegan" and has been giving Nomi crud the whole episode about her being a meat eater.
Jazz and Zoey give the rebranding thing one more try and it ends up being more true to the both of them. They crush some stereotypes about women and their bodies. It's a great picture and the styling is on point.
Luca's body count is the topic for Episode 9. That might of been my least favorite episode of the season. It's all about Zoey and Luca, so not my favorite topic. Basically, Luca had a picture of his ex up for his art exhibit and it freaked Zoey out. I mean, IG stalking and all out freak out, with Ana's help. Zoey even found the girl's parents' Facebook page. Talk about down the rabbit hole.
Nomi goes to a queer performance art show that's absolutely awful. Some girl was literally just screaming into the microphone. Nomi texts her Gender Studies professor and the prof says that gay people can make bad art, too. They end up talking on the phone well into the night.
Ana and Aaron go out for hot dogs and try to be just friends, but that seems to be pretty hard for both of them. Zoey talks to Ana after finding out about Luca's body count and Ana says that Luca's tolerant of Zoey's past. She mentions Aaron and Zoey says that it's not like Zoey was ever in love with Aaron so it's not that serious.
Ana takes that as a go ahead to go hook up with Aaron. It was pretty heated.
Zoey and Luca make up for the hundredth time. I still don't think they're good together. At this point, I'd rather have Ana and Aaron together than "Zuca," but that's just me.
Things start popping off in Episode 10. Instead of spending the night studying for her Chem final, Zoey is at the "Faded 4 Finals" rager. Despite the fact that the exam is first thing in the morning. Vivek tells her that the test is cake so she decides to spend a few more minutes at the party and that turns into a few hours.
While she's at the party, Ana and Aaron are hooking up. But they're not the only ones getting play, Nomi is hooking up with her Gender Studies professor. Those calls from the episode before turned into a week of them hanging out.
Ana and Aaron get to the party and Zoey finds Ana immediately. Ana starts acting super weird and leaves Aaron and Zoey. Aaron tells Zoey she's basically screwed for the Chem exam and Zoey freaks out. She starts reaching her limit and decides to head home to study.
As soon as Zoey gets to the apartment, she realizes she forgot her key card. She heads back to the party to borrow Ana's and gets intercepted by Sky. Jazz is having a meltdown on IG live and Zoey has to snap her out of it. I don't get why sis is choosing to be the glue of this friend group, sometimes they gotta just figure it out for themselves.
Anywho, Zoey finally gets to Ana to borrow her key card. As soon as she opens her laptop to study, Nomi comes in talking about how she's "deeply in like" with someone (AKA her professor). Nomi convinces Zoey to go out again, even though the Chem final is in seven hours. She gets straight up wasted and her brain is barely functioning for the exam.
Turns out, Zoey really should have studied. She doesn't understand any of the questions after the first one. She ends up dong something she thought she'd never. Sis cheats on the final, and she doesn't even cheat in an inconspicuous way. She had her phone out taking pictures of the guy in front of her's scantron. I bet they didn't even have the same version of the test.
Ana tells Aaron she doesn't want to keep this thing between them a secret and he agrees. She tries telling Zoey but it's the worst possible moment. Zoey gets an email from her professor that says to stop by his office and she's pretty sure she got caught.
Jazz and Doug finally talk it out. They officially break up and take my heart with them. They were legit the only couple I liked on this show. Everyone else's relationships make no sense to me.
Episode 11, AKA the Spring Finale was everything and more. So much went down and I was here for it. While Zoey was trying to figure out what to do about everything, her dad wouldn't stop calling about Parent's Weekend.
She talks to the girls for some advice about everything. She's going to talk to the board the next day and she's seriously stressing. The girls take some shots together and Zoey gets super sappy with each of them. Ana starts feeling super guilty about not coming clean about Aaron. Zoey decides to finally answer her dad's call and tells him not to come.
Aaron, Vivek, and the twins don't have anyone coming for parents weekend. Aaron's parents don't seem to love him since they've missed it every year. The twins dad is still pissed about the rebranding situation. Vivek didn't even tell his parents cause he's tryna make those money moves.
Zoey gets questioned by the board about the cheating. Dean Telphy recused himself before the questioning process started. The man said they're blood relatives and he was wearing basketball shorts with a suit coat. Charlie is something else. Zoey comes clean about it and she gets put on academic probation, but that's way better than expulsion.
Nomi comes out to her parents and they respond in complete silence. She goes to see her professor about it afterward and she's feeling super pumped out. Then she sees that her professor has a guest over and that doesn't sit well with her. Her professor gets real with her and Nomi ends up super hurt about it.
Jazz's IG was hacked earlier in the episode and she automatically blamed Doug for it. He got heated and said he didn't do it. Later on, she found out her dad was the one that hacked it all along. Doug and Jazz are still so cute though.
Zoey's dad, Dre, and her grandpa, Pops, drop in for an unexpected visit. Charlie told Dre about Zoey's probation and he is livid. Pops and Dre tag team in calling her out. Things don't get any better when they see Luca in a kimono, just chilling at her place. Pops and Luca go to Zoey's room so Dre and Zoey can talk in private. Dre cuts Zoey off because he feels like they've made life way too easy on her.
Zoey's out trying to figure out her life when she runs into Aaron. He thinks she's pissed about him and Ana hooking up, but she doesn't even know about that yet. And that's where they cut it off. Thankfully, the sneak peak promo videos gave us some hints on how she takes the news. I'm excited to see this all go down.
Do you feel ready for the new episode?
What are some of your predictions?
Who are your favorites?
What are you most excited to see?
Let me know in the comments, let's chat!