I've gotten super into banner making lately, thanks to Canva. Let me know if this one was a hit or miss!
I'm sure I'm not the only one sad over this three month break. I included a few of my thoughts on the Spring Finale Wednesday night, I just couldn't wait.
This episode was the culmination of a lot of what we've been waiting for. It also left us with a lot more questions. If you missed any of the other episodes, make sure to check out my previous recaps and drop a comment or two. Here are the links for Episode 10, Episode 9, Episode 8, Episode 7, Episode 6, Episode 5, Episode 4, Episode 3, and the Premiere.
That being said, let's get into this recap.
Recap
Zoey spares no time getting to the point. She starts off by name dropping Lance Armstrong, Martha Stewart, and Tiger Woods and adding her name to that list. The main thing they all have in common: they're cheaters.
She's preparing to face her consequences for the events of last week's episode. One of which is a "possible expulsion." All of this is happening during Parent's Weekend and her dad won't stop calling. We're in for a wild ride.
Zoey goes to her girls to try figuring out her next move. She tells them that she's so screwed, she'll probably end up expelled and having to get a job at Pinkberry. Jazz and Sky shut her down by telling her how hard it is to get a job at Pinkbery, they've tried.
Dre, Zoey's dad, is still calling about Parent's Weekend. She decides to shush him and he starts blowing up her phone with texts. She completely ignores him. She says she wants to get herself together first.
Nomi tells everyone that she'll be coming out as bi to her parents this weekend. Sky says it won't be too bad since Nomi's "only kinda gay."
Ana gets a text from Aaron. She decides not to hook up with him until she tells Zoey. She doesn't want to tell Zoey until after parent's weekend because she's already going through so much.
Zoey pours everyone drinks and starts getting all sappy. She talks about how each of the girls has impacted her in some way and how she'll miss them if things don't turn out well. When she gets to Ana, she tells her how she trusts Ana with her life. You can see the guilt rolling off Ana's skin.
Nomi tells Zoey that she'll be fine, she just has to say "I do not recall." Zoey decides to finally call her dad. He ends up bawling on the phone again, just like that very first episode. She tells him not to come, which only makes the crying worst.
Jazz, Sky, Vivek and Aaron don't have anyone coming for Parent's Weekend. Jazz and Sky's dad is still mad about the Instagram re-branding. Aaron's parents have an excuse every year. Vivek is way too worried about getting customers this weekend, so he didn't even tell his parents about it. Also turns out, someone hacked Jazz's IG account and deleted all her pictures.
Now, back to Zoey's trial. Dean Charlie Telphy decides to recuse himself because him and Zoey are "blood relatives who share the same exact genetic makeup." He's also wearing slides, some gym shorts, and an anklet. One of his boys, Deante, took a lighter to his work pants during their impromptu trip to Lake Havasu the night before. One of the board members calls out Lauren for voting Charlie Dean. I still don't know how he got the job.
Zoey's trial officially starts. She starts feeling guilty and almost takes Nomi's advice. Thankfully, she swallows her fear and admits to cheating. I was honestly so proud of her.
Nomi meets up with her parents for lunch. Her mom immediately starts talking about the potential suitors. When Nomi mentions that she's met someone special, her mom asks if "he's" Jewish. Nomi says that she doesn't know what "she" is. Her parents were SHOOK.
So, apparently Jazz's password is eatthebootielikegroceries_1. Just…
Aaron is still thinking about how absent his parents are. Doug comes in and Jazz accuses him of hacking her page. He says he didn't even know she was hacked since he unfollowed her. Jazz is pissed Doug unfollowed her. Aaron says he understands Jazz's hurt because his parents unfollowed him in real life. Aaron was real real hurt.
While Jazz and Doug are arguing, Aaron calls up Ana. She still hasn't talked to Zoey yet, but at least Ana's mom brought her a ton of food.
Luca's hanging out in Zoey's room when she gets home. She tells him how she's okay since she only got academic probation instead of being expelled. There's a knock on the door and Zoey goes to answer it, thinking she'll be greeted with the Post Mates she ordered. Turns out, it's her Dad and Grandpa (AKA Pops).
Charlie called Dre and told him about Zoey's academic probation. Then Zoey rats herself out about cheating on her Chem exam. Pops calls Dre out for buying a paper on the Harlem Renaissance from a white kid while he was at Howard. Basically, Zoey's not the only one who's ever cheated. Pops doesn't take the cheating thing seriously. Then Luca comes out of the room and asks if they're the Post Mates guys. That's when Pops starts seeing it as a situation.
Nomi goes to see her professor to tell her about how she came out to her parents. She's super excited but there's another woman in the apartment. Her professor tells Nomi that their relationship isn't realistic because she could get fired if someone finds out, which is true. Now I'm just worried Nomi will do something drastic.
Back to Zoey's "situation." Pops tries to say that college wasn't like this back in his day. Then Dre calls him out for never going to college in the first place. Pops says he didn't go to college because he was fighting in 'Nam and Dre calls him out again because he never went to 'Nam. Pops curses Dre out for that and calls Luca a young Bohemian. The whole scene is hilarious.
Dre asks Luca when was the last time he slept at his place. He says September, Zoey says yesterday. It's a whole mess. Then Dre notices the blunt behind Luca's ear and Zoey tries pretending it's a hearing aid. Then, this girl has the audacity to start trying to use sign language with Luca. She just kept digging herself deeper.
Pops and Luca go to Zoey's room so Zoey and Dre can talk in private. After seeing everything first hand, he doesn't know how to help her. Dre decides to cut Zoey off financially.
Sooo, Doug didn't hack Jazz's account. Her dad did, and he left a whole ad for his rib shack. It was pretty funny. Even though Doug unfollowed her on his main account, he has a burner one he uses to keep posted.
Ana tries to tell Zoey about her and Aaron, but she leaves in a hurry. Zoey runs into Aaron and she starts breaking down. He thinks she's freaking out over him and Ana, but she doesn't even know yet. And they just leave it like that, the disrespect.
Side note, that commercial for The Sun is Also a Star got me so ready for it to hit theaters. I read the book last year and when I heard Yara Shahidi would be Natasha, I got ten times more excited for it.
The last scene is Pops and Luca in Zoey's room. They have a chill conversation that ends with Pops kind of robbing Luca. He tries on Luca's kimono and decides he's not giving it back. Then he asks what Luca's shoe size is.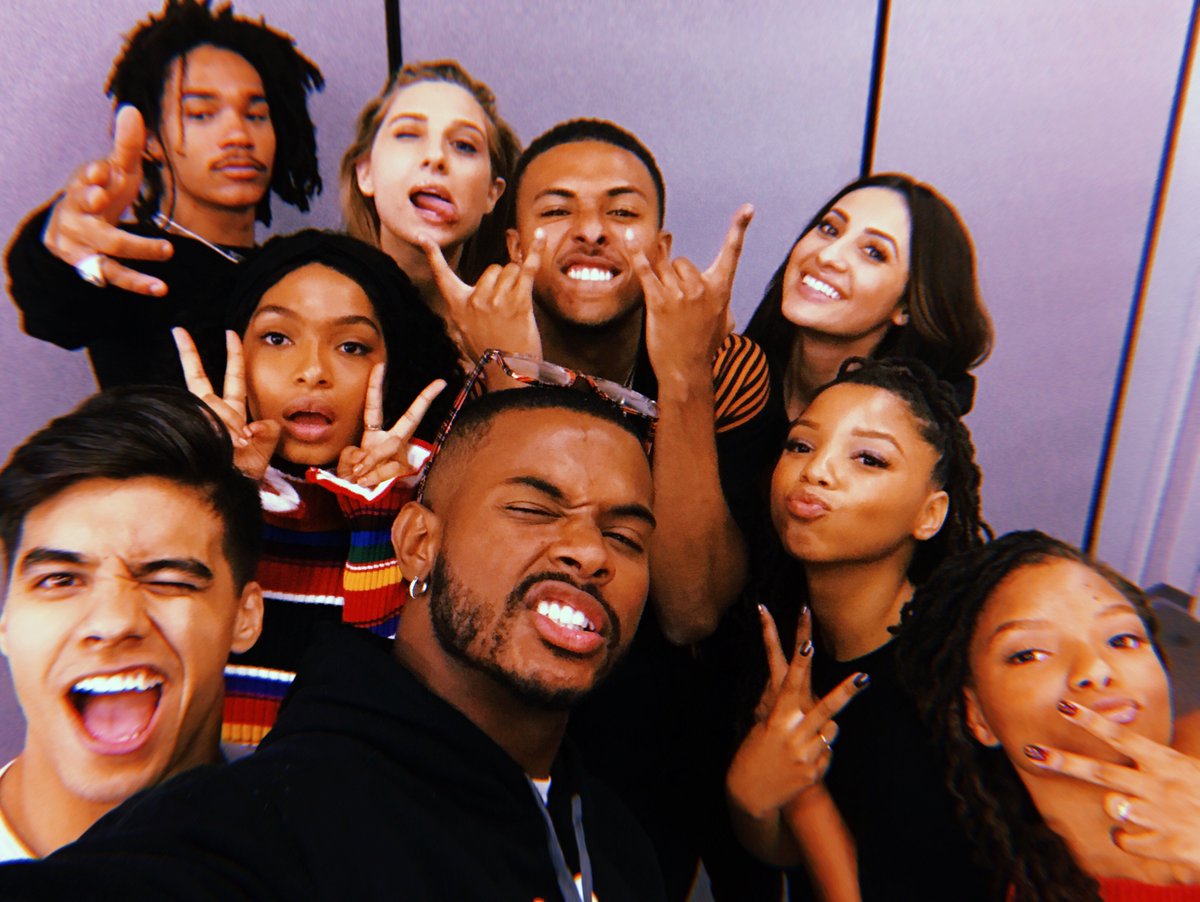 Discussion
This episode was something else. I'm happy Nomi finally came out to her parents, that was long overdue. I can't believe Ana and Aaron still haven't told Zoey. They should've told her when it first started getting serious. Unpopular opinion, but I get why Dre cut her off. I don't think he should cut her off completely, but I get why he did it. She's been wildin' and he doesn't know the half of it.
What did you think of the finale?
How do you think Zoey will react when Aaron tells her?
What do you think Nomi will do next?
How is Zoey going to pay for school next semester?
Let me know your thoughts in the comments, let's chat!